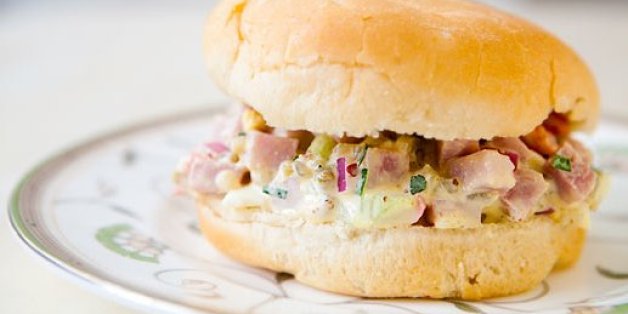 America, I come to you with a regional foods conundrum: it is known to me as a chopped ham and pickle sandwich. You are probably thinking to yourself, "She's probably talking about ham salad." Well, no. Not really. That picture there? That's a picture of a ham salad sandwich. It contains cubes of ham with onions, herbs, mayonnaise, and usually mustard (you can get the ham salad recipe pictured from Simply Recipes, if you're looking).
"Maybe she is talking about deviled ham?" Again, not exactly. In deviling, you add mustard and paprika, and there's celery in there most of the time. What I am talking about is ham and dill pickles, ground up to a spreadable consistency, bound together with mayonnaise. No more, no less, outside of a little salt and pepper. This is unfailingly served on white, toasted bread. I have only ever been offered this sandwich in New England, so New England... is this sandwich your fault? Describing this thing really does not do it justice. It sounds repulsive. In truth, a pink meat spread looks pretty repulsive. But the taste manages that magical more-than-the-sum-of-its-parts dance.
My husband was born in a town just outside Boston. I can't adequately describe the circumference to which his eyes ballooned the day we walked into one of our favorite greasy spoons in Cape Cod and there, scribbled on a white board with dry erase marker was "Chopped Ham & Pickle Sandwich, $4.99." He used to eat them when he was a kid, and I'm pretty sure he hadn't considered them since.
I shouldn't have been immediately disturbed. I love ham. I love pickles. I even really, really like mayonnaise. I'll even cop to being pretty into white bread. But, as the nice lady set down two slices of toasted white bread filled with what looked like pink tuna salad, my face twisted up. What vegetable-less culture came up with this thing? Why weren't you just content to eat a sandwich with sliced ham and sliced pickles? And then I tasted it. And I knew. New England, you are totally right about this sandwich.
Chopped Ham and Pickle Sandwich
Two slices white bread
A hunk of leftover ham, or a few slices of good deli ham
1/2 dill pickle, diced
Enough mayonnaise to bind
Salt and pepper to taste
I know, I know. I can hardly believe I'm giving you a recipe for this either. But take a deep breath and let's do it.
Toast your bread. In a food processor, pulse ham and pickles until they are chopped up very fine, put aren't a paste. In a bowl, combine ham and pickle mixture with just enough mayonnaise to bind everything together. Season to taste with salt and pepper. Spread on bread, eat like a sandwich, think of New England (maybe).
Want to read more from HuffPost Taste? Follow us on Twitter, Facebook, Pinterest and Tumblr.
BEFORE YOU GO
PHOTO GALLERY
American Regional Foods