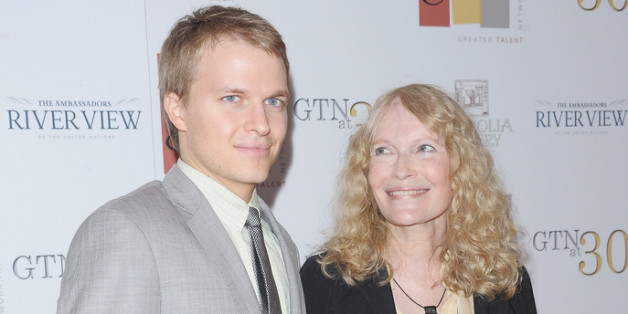 Amid the Internet frenzy over the Farrow family tree, we thought it'd be best to refocus the spotlight on other calamities -- namely the issues for which Mia and Ronan Farrow advocate.
In a Vanity Fair bombshell interview, the "Rosemary's Baby" star suggested there's a possibility her 25-year-old son Ronan was fathered by Frank Sinatra and not Woody Allen. But we're pretty sure that besides that knockout of a tweet Ronan delivered, the two aren't sweating it. They've got other stuff they're tackling.
Mia Farrow, a UNICEF Goodwill Ambassador, has long advocated for children's rights and most recently the victims of the Syria crisis.
She penned a blog post for CNN this summer, calling for aid and awareness for the then-4.25 million Syrian refugees seeking shelter. In January, she had visited Lebanon with UNICEF to distribute supplies and raise awareness for refugee families displaced by the conflict.
"No one could have anticipated the enormity of the humanitarian catastrophe that is now unfolding. Until a political solution to Syria's conflict can be found, its innocent and most vulnerable victims must be kept alive," she wrote.
She also helped launch a polio vaccination campaign in Chad, which has the second highest number of polio cases in the world, according to UNICEF. Farrow had polio as a child and her adopted son from India is paraplegic as a result of polio.
"To see the eradication of polio would be very meaningful to me personally," she wrote.  "The challenge here in Chad is to convince all parents that the vaccine is safe and to reach every child, even in the most remote places."
Ronan Farrow, a Rhodes Scholar, has served on Obama administration's foreign policy department and also at the State Department.
He hosted a summit on AIDS at the UN and has written op-eds for the Wall Street Journal, among other publications, advocating for humanitarian efforts in Darfur. Ronan, who also founded the Office of Global Youth Issues and was an advisor to former Secretary of State Hillary Clinton during the Arab Spring uprising, has helped highlight the activism efforts of young people as well.
Perhaps the more important Farrow interview nugget is what Ronan recently detailed about his backstory in Esquire's October issue:
"[Having celebrity parents has] shaped my life and given me a burning desire to prove myself at every turn. It's made me pretty driven, and, combined with the feeling of being the youngest guy in the room, has meant I've had to be pretty precise in defending the things I want to stand for."
We thought it'd be cool to channel all this hullabaloo to kids in Syria, a cause that's important to the Farrows. Check out UNICEF's efforts if you're feeling so inclined.

BEFORE YOU GO
PHOTO GALLERY
Celebrity News & Photos