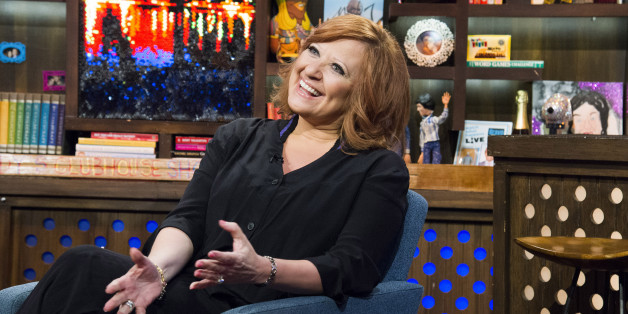 These days, our knowledge of celebrities too often originates with paparazzi images and snarky quotes by anonymous "insiders." After a while, it's easy to forget that stars are real people. That's why HuffPost Celebrity decided to launch its all-new #nofilter quick-fire question-and-answer series. Because how well do you know someone until they've shared their guiltiest pleasures?

"Thick as thieves" is how Caroline Manzo once described her family in the opening credits of "Real Housewives of New Jersey," delighting viewers everywhere with her compelling mix of Mama Bear and tough girl attitude. In this spirit, we put the gutsiest "RHONJ" cast member to the test with our latest #nofilter challenge.
When's the last time you cried?
Oh my god, yesterday.
What's your guiltiest pleasure?
I'm very sorry. I'm boring. My guiltiest pleasure is a very great spa day massage.
What's the silliest thing you've ever lied about?
Something about an intimacy thing between me and my husband [Albert Manzo]. Andy Cohen once asked a question about sex, and I said I've never seen my husband naked. I don't know why I said that.
If you could commit a crime and get away with it, what would it be?
Rob a bank!
What's one thing you do when you're alone that you wouldn't do in front of someone else?
I talk to myself a lot. [Husband Albert pitches in]. Oh, and sing!
What happens in your recurring dream?
I have one recurring dream. It's that we're on the George Washington Bridge, icy, the bridge collapsed and my kids are sliding down the ice. I can't get to them. And there's lions on the other side of the bridge.
What's the working title of your autobiography?
"I Can't Believe She Did It." Or, "Small But Scrappy."
Is it okay to recline your seat on an airplane?
I don't like that. I think it's rude. but on a long flight it's acceptable. I only do it if it's a long flight and a red eye.
Is a good friend hard to come by?
Absolutely.
When do you feel most at peace?
When I get in bed at night and I have a good book and a cup of tea next to me and I hear my husband snoring.
Manzo is currently filming the pilot of her new spinoff series, "Manzo'd With Children," which will feature her husband, Albert, sister Fran and children Albie, 27; Lauren, 25; and Chris, 24.
BEFORE YOU GO
PHOTO GALLERY
The Real Housewives of Bravo