Even knights in shining armor get boo-boos that need to be kissed -- and this particular member of the king's court knows that his daughter has the power to heal him.
After a joust, she is the fairy on-hand to fix up all the knights who have fallen.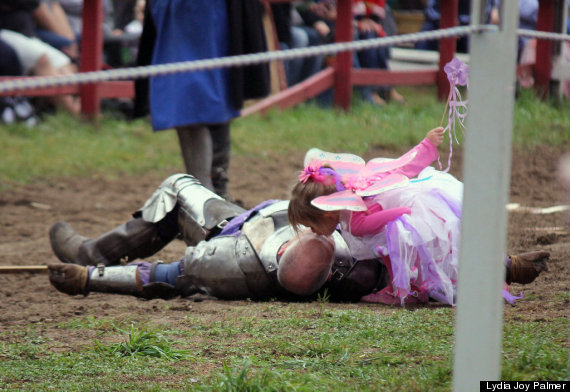 Artist and photographer Lydia Joy Palmer took this photo of the little lady in action at the Michigan Renaissance Festival. Dad performs with the Ohio-based Brothers in Arms Jousting Troupe.
"The Knight laying down in the photo had been performing as a cocky jerk character, and his daughter is always there to watch," Palmer explained over email, adding: "At the end of their performance she came running out in her little fairy costume, 'healed' the 3 other knights with her wand, and kissed her Daddy better!"
Palmer said she almost didn't share the photo because of the jousting post on the right hand side. But we agree with the many online commenters giving it a slow clap. This one is an image for the ages.
Photo courtesy Lydia Joy Palmer. Check out more of Lydia's work on Facebook and her blog.
BEFORE YOU GO
PHOTO GALLERY
Dads On How Daughters Have Changed Them