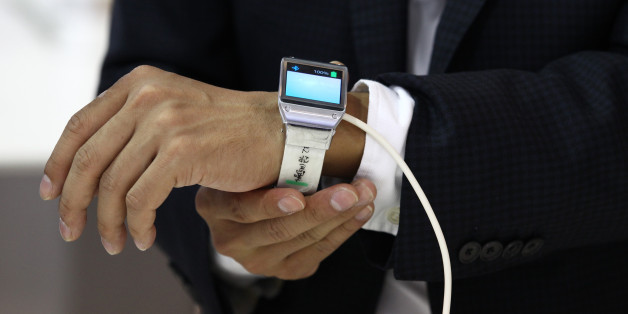 Prepare for a world of cyborgs.
Wearable technology, which includes camera-equipped smartwatches like the Galaxy Gear and Internet-connected eyewear like Google Glass, is set to explode over the next few years, according to a report released Friday.
The report, from Swedish telecom market researcher Berg Insight, says that by the end of 2017, companies will ship more than 64 million wearable technology devices. That includes smartwatches like the Samsung Galaxy Gear, smart glasses like Google Glass, and fitness and activity trackers like the FitBit, Jawbone UP and the Nike+ Fuelband.
While 64 million is no doubt a big number, it's not huge when it comes to consumer electronics. To put it in perspective: This year, 1 billion smartphones will be sold worldwide, according to Gartner, the technology market research firm.
But at the same time, there were only 16 million e-readers like Kindles and Nooks shipped in 2012, and about 28 million personal navigation devices, according to Berg Insight. So when compared to those figures, 64 million is pretty significant.
Buying a wearable device "will be as common as it is to buy a standalone camera," Johan Svanberg, a senior analyst at Berg Insight and the author of the report, said in an interview with The Huffington Post. "Most of us have or know someone who has a standalone digital camera."
So while they won't be as ubiquitous as smartphones, there's a good chance that either you or someone you know will have a wearable device in the coming years, Svanberg said.
Although Google Glass has received a lot of attention over the last year, the biggest wearable category in the next few years will be the smartwatch, said Svanberg, writing in the report that "[t]he market for smart watches is on the verge to take off."
This isn't too surprising, as research has shown that people are much more willing to put wearable tech on their wrist as opposed to their face.
In its report, Berg Insight predicted that 400,000 smartwatches will be sold this year, up from 250,000 last year. But by the end of 2017, Berg Insight predicted that 35 million smartwatches will ship.
There are a number of smartwatches currently on the market, from huge technology players like Sony and Samsung to startups like Pebble. Samsung announced the Galaxy Gear last month, but the watch has received poor reviews. Apple and Google have for months been rumored to be developing a device that will be worn on the wrist. Just last week, 9to5Mac reported that Apple had poached a Nike designer who had worked on the Fuel Band, and recent rumors suggest a watch from Google could be released as early as this month.
"Everything in Google's smart glasses -- which are already available -- is very easily transferrable to a good smartwatch," said Svanberg. "So I think that the next step for smartwatches is actually Google Glass on your wrist."