It's not an accident that most major metropolises are situated on or near bodies of water. Cities like New York, San Francisco and Los Angeles all boast beautiful views, robust economies, and ... atrocious traffic. Which is why it's also not an accident that all four of these cities are trying to become more bike friendly, with San Francisco in the lead, New York impressively innovating, and LA pedaling to keep up.
But what if these cities could go even further? What if they could promote bike transportation while also using their coastal conundrum to their advantage?
Enter Judah Schiller and his water bike.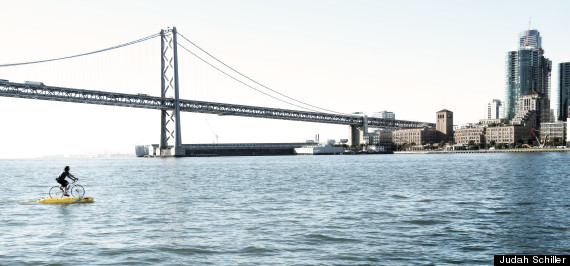 Schiller is from Mill Valley, CA, across the bay from San Francisco. He is the single father of three children, and he always wanted to show his kids that "anything is possible."
So when Schiller, who has a design background (he co-founded Saatchi & Saatchi S and the AIKO Agency), discovered that the bike path on the new portion of the Bay Bridge would only go halfway across, he sought a new possibility. (Building the other half would take years and roughly $500 million.)
"There's got to be a way to get all these bike commuters into the city, this is the most bike-friendly city in the planet," Schiller reasoned.
So he bought a water bike kit from an Italian manufacturer, and started practicing. The kit consisted of two inflatable pontoons, a small propeller, and a mount by which you can attach your own bicycle.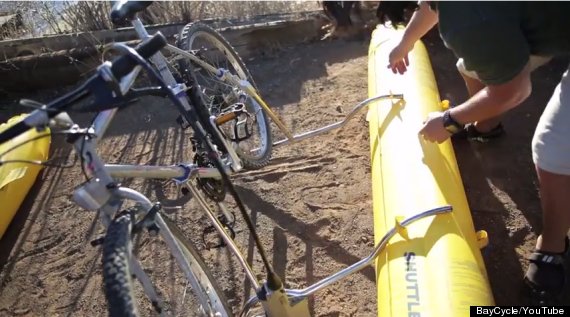 Next, Schiller started the BayCycle Project, an organization bent on "creating a new aquatic frontier in biking" by developing affordable, practical water bike kits by 2015. Through an IndieGoGo campaign, Schiller wants to raise $50,000 for the project. To kick it off, he vowed to be the first person to water bike across the San Francisco Bay.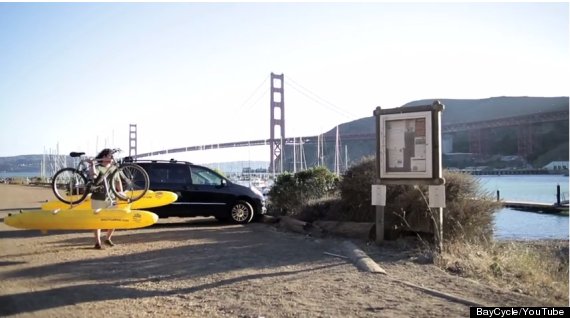 And last week, he did it.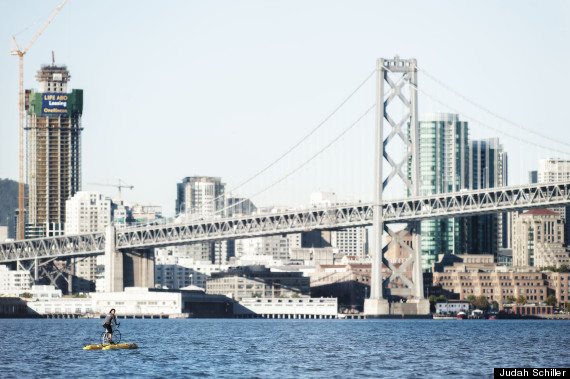 On Thursday, Schiller biked across the Hudson River, from Hoboken, NJ to Pier 66 in Manhattan.
The bike kit Schiller uses fits in a backpack. He says it takes about 15 minutes to set up the water bike and 5 minutes to take it down. It can sustain glassy or choppy waters.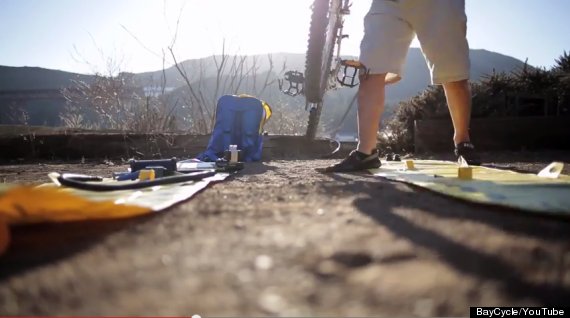 "I see water biking as a great alternative form of commuting," Schiller says. He dreams that one day, a "virtual bike lane" will exist across San Francisco Bay and other cities' waters, formalizing water biking as a transportation mode.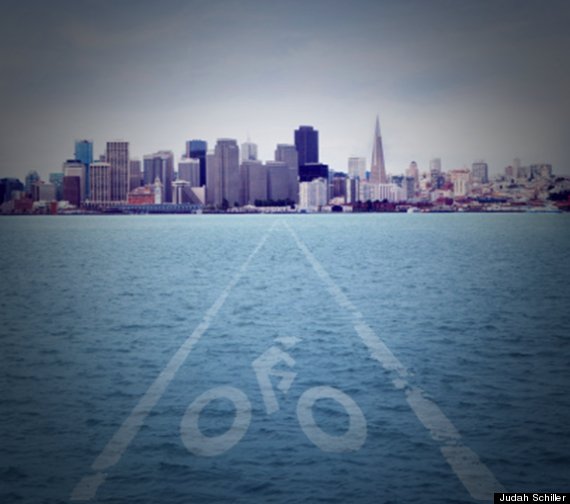 It took Schiller about an hour to bike from Oakland to San Francisco, which on a bad traffic day is how long it might take to cross the 8-mile-long Bay Bridge.
But even if it doesn't save time, it is "a lot more practical and enjoyable than spending an hour stuck in rush hour gridlock in a tunnel or on a bridge," Schiller says.
"It's also a beautiful experience to start the day cruising over the water and connecting with nature...even if work awaits on the other side."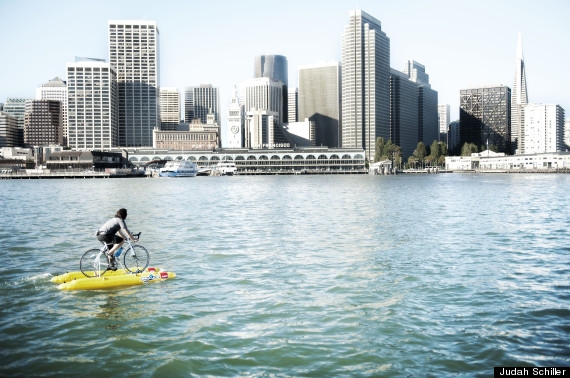 Watch Schiller talk about the BayCycle project:
BEFORE YOU GO
PHOTO GALLERY
10 Hot Green Innovations