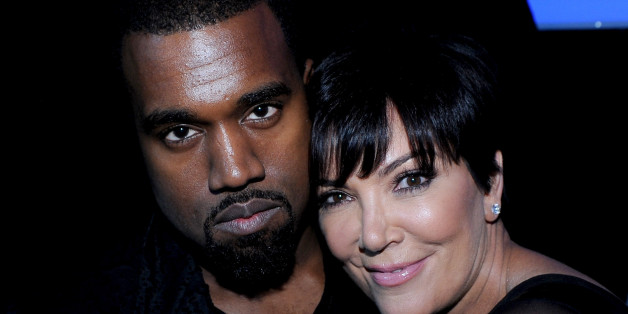 Kanye West made quite a few headlines for his Twitter rant against Jimmy Kimmel last week, but in a new interview, Kris Jenner attests to the rapper's softer side.
In fact, Jenner had nothing but good things to say when "Hello Ross" host Ross Mathews asked her about the boyfriend of her daughter Kim Kardashian, and father of her granddaughter North.
"I love him so much," Jenner said, "and he's such an amazing boyfriend to Kim and a great dad and a wonderful person."
"And that's why I thought it was so cool to have him on my show, and I got to sit down with him for an entire hour, and I think people saw this other side to him," Jenner added.
"He's creative and he's an amazing, amazing human being, he really is. And he doesn't always do interviews and get the chance to realy express himself like that, so I was really glad that I got a chance to sit down and talk with him," she said.
West, who was just spotted sporting an adorable necklace with his daughter's nickname, offered similarly affectionate praise for Kardashian during the aforementioned "Kris" interview back in August.
"I could have people saying, 'This is going to damage your credibility as an artist or as a designer, and I say, 'I don't care. I love this woman,'" he told Jenner. "Or someone could say, '[T]he paparazzi surround you. ... Everyone knows you don't like paparazzi. Why would you be with this person?' And I would say, 'I'm being with this person because I love this person and she's worth it to me.'"
BEFORE YOU GO
PHOTO GALLERY
Kim Kardashian and Kanye West