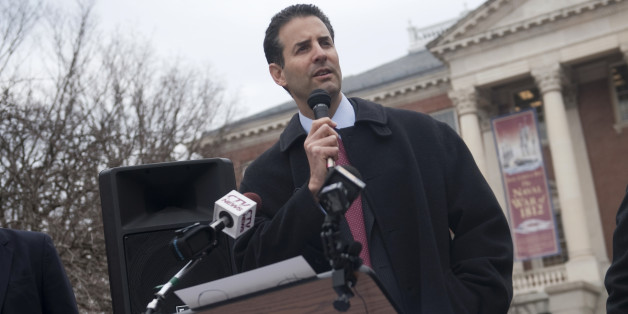 COLUMBIA, Md. -- The 2014 election is over a year away, but even so Rep. John Sarbanes (D-Md.) found himself standing in late July in the recessed living room of two supporters, Mary and David Marker, addressing a room full of potential donors to his reelection campaign. In this day and age of astronomical political spending, it's never too soon for a lawmaker to gear up for the next campaign. And yet this was no ordinary fundraiser, and Sarbanes was making no ordinary pitch.
"I want to thank you all for coming," Sarbanes said. "I want to thank you for being interested. I want to thank you in advance for becoming a grassroots donor tonight. Remember, $5 is enough to state your commitment."
Five dollars might not seem like enough, not when donors can contribute up to $2,600 for each primary and general election, and politicians typically spend their time asking people to do just that. But this was a small-donor fundraising party -- an event Sarbanes plans to repeat across his district as he attempts to fundamentally change the way political candidates raise money.
In the past two years, Sarbanes, a four-term congressman and the son of former five-term Sen. Paul Sarbanes (D-Md.), has emerged as a leader in a new vanguard of campaign finance reformers. These politicians and activists are pushing to empower small donors and to fight back against the rising tide of big money in politics and the increasing pressure congressional candidates face to raise money for their campaigns, peers and parties.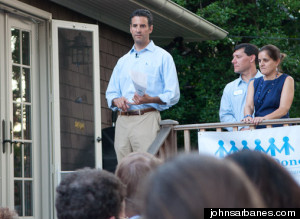 Rep. John Sarbanes speaks at a small-donor fundraiser in Roland Park, Md.
"I just woke up one day and -- I just can't keep doing this the same old way," Sarbanes said in an interview with The Huffington Post. "I can't keep going to the same donors with the same story. There's got to be something more innovative here."
Sarbanes has room to innovate. The seat he occupies, which stretches between Baltimore and Washington, is safely Democratic. So before the 2012 election, he stockpiled a half-million dollars in donations that could be unlocked only after he raised contributions of $100 or less from 1,000 first-time donors in his district -- a goal that he ultimately achieved. The arrangement provided the large pool of money needed to run a successful campaign. But it also offered something more: an incentive to reach out to new small donors, the ones who usually get ignored come election season.
The experiment was invigorating, Sarbanes said. It freed him from the tedium of calling the same wealthy donors he dialed every year asking for maximum contributions. It also allowed him to talk to more of his constituents. He used those conversations, along with discussions with reformers and organizations both inside and outside Washington, to craft what he calls "a meaningful bill to reform the way we fund campaigns."
Sarbanes introduced the proposed Grassroots Democracy Act earlier this year in the House of Representatives. After months of negotiations, it is poised to become the basis of a new piece of legislation around which Democrats will organize support for congressional campaign finance reform over the next few years.
Sarbanes' original bill would match every $1 in donations of $100 or less with $5 in public matching funds and provide a $50 tax credit to every American voter to use as a contribution to the political candidate of his or her choosing. By being tied to a large pool of funds, small donors become as valuable as big ones. The bill would also bar participating candidates from accepting contributions larger than $1,000.
The push for a campaign finance reform bill comes at a critical moment. The Supreme Court's 2010 Citizens United decision opened the political spending floodgates and ushered in the era of the super PAC. This week, the court is hearing arguments in McCutcheon v. Federal Election Commission, which challenges the aggregate federal two-year contribution limit for individual donors. Without this limit, big donors would be able to spread their wealth further throughout Congress, gaining more influence in the process.
While it may seem quixotic to push for campaign finance reform while previously set restrictions are falling left and right, ordinary citizens are rallying around the issue of money in politics in a way not seen in many years. What had once been a cause limited to a niche group of good-government types in Washington has grown into a broad coalition. The Sierra Club, the NAACP, Greenpeace and the Communications Workers of America -- four of the largest membership groups in the country -- have begun to invest time and resources in supporting campaign finance reform for the first time. And a new breed of reformers are pushing new arguments to highlight the issue and bring conservatives and disaffected voters into the fold.
More than anything else, however, reformers believe they have finally cracked the code for changing the way politicians raise money. The key, they say, is to encourage candidates' political activity and increase the voice of small donors in the fundraising system.
"The notion that we're simply going to regulate the big money out by establishing limits has faded," said Nick Nyhart, president and CEO of Public Campaign, one of the groups rallying around this new effort. "People are saying, well, you might need those regulations, but that alone is not going to do what you need to get people in. So there has been a big shift in that."
*****
The increasing pressure on lawmakers to raise campaign cash is not simply a result of the rise of special interests in Washington. The Republican takeover of both the House and Senate in 1994 sparked a reordering of fundraising priorities, as power on Capitol Hill finally came up for grabs after 40 years of Democratic rule in the House. Holding just a small majority in the House through the 1990s and early 2000s, Republican leaders put heavy pressure on their members to raise larger and larger sums of money in order to protect incumbents and go after vulnerable Democratic seats.
Republican leaders also placed term limits on committee chairmanships and chose leaders based on how much money they could raise for the party. Democrats, while not adopting the term limits, responded by increasing pressure on their safe incumbents to raise money for their party.
"If you were trying to become a ranking member or, if you're in the majority, the committee chair, if you don't raise tons of money for the party you've got no chance," said Rep. John Yarmuth (D-Ky.), another campaign finance reform leader in Congress. "No matter how loyal you may be, no matter how much work you do, no matter how smart you may be, you've got very little chance of getting one of those positions."
"It's implied," said Rep. Beto O'Rourke, a freshman Democrat from Texas who supports the Sarbanes bill. "If you do not participate in this [fundraising], you diminish your ability to be influential. Whether it's gaining a committee assignment, whether it's getting the help that you need on legislation that you want to carry, whatever it is, you're just seen as not a team player."
The current system of fundraising basically requires members of Congress to devote huge amounts of time to calling and meeting with donors able to provide maximum contributions. On Nov. 16, 2012, little more than a week after the election, House Democratic leadership gathered freshman members together for an introduction to life in Washington. This included a PowerPoint presentation given by the Democratic Congressional Campaign Committee (and revealed by The Huffington Post in January) explaining time management on Capitol Hill.
The presentation laid out a nine- to 10-hour workday with three to four hours devoted solely to "call-time," or the practice of calling donors to ask for campaign contributions, and another one to two hours spent going to fundraising events.
"There was the expectation that you would spend half your day calling for money [and] generating new leads by going to after-work get-togethers, meet-and-greets," said O'Rourke, who attended the meeting.
Rep. Chris Van Hollen (D-Md.), himself a former DCCC chairman, said when asked about the recommended three to four hours per day of call-time, "It's exactly why we need to change the system."
Other members of Congress similarly voiced concerns about the constant pressure to raise money. Sen. Chris Murphy (D-Conn.) described call-time as "soul-crushing." Yarmuth told HuffPost that it was "an experience I quickly grew to abhor."
Rep. Ed Perlmutter (D-Colo.), who represents a suburban swing district around Denver, said raising money comes with the territory, particularly when you're in a competitive seat.
"I know that's part of what is required of me in a swing district," Perlmutter told HuffPost, "to raise money so that I can get up on the air, so that I can conduct the field program, do the parades, put out the yard signs, do the voter-to-voter contact that is required to win a swing district."
He begins fundraising for his next race about a week after an election.
This constant race for money has made Congress dependent on a select donor class that is not representative of the American public. In the 2010 election, .05 percent of the U.S. population made at least one then-maximum contribution of $2,500 to a political candidate. Yet these donors accounted for 37 percent of all contributions to candidates, parties and PACs, according to the Center for Responsive Politics. In the 2012 election, these max-out donors -- there were slightly over 241,000 -- accounted for 51 percent of all contributions.
A host of recent political science research has found that Congress is most responsive to the concerns of the wealthy, while hardly registering the opinions of lower-income Americans.
Harvard Law School professor Lawrence Lessig, one of the new leaders of the campaign finance reform movement, has been outspoken about the corrupting influence of money in politics.
"There's a fundamental economy of influence in Washington that's kind of matured over the last 30 or 20 years," Lessig said. "What's striking about this story is the pathological extent of this influence is really relatively recent. So it was my view that we weren't going to solve this problem by modest reforms."
Lessig's high profile in Silicon Valley and across the Internet has helped attract a wider audience outside Washington to the issue of money in politics. In a popular TED talk earlier this year, he argued that the enormous amount of time spent fundraising from the wealthy plays a major role in warping the institution of Congress, resulting in a "dependence corruption" that he called "democracy-destroying."
"Now, by corruption, I don't mean brown paper bag cash secreted among members of Congress," Lessig said in his talk. "I don't mean any criminal act. The corruption I'm talking about is perfectly legal."
"Larry has been very important in getting people focused on the issue," said Larry Kramer, a longtime acquaintance of Lessig's and president of the Hewlett Foundation, which is examining funding campaign finance reform efforts.
Large organizations are coming to the realization that the influence of money in politics is impeding progress on their primary issues. Hilary Shelton, NAACP senior vice president for advocacy, explained that money "plays a spoiling role in campaigns," by limiting the number and type of candidates who hail from lower-income and minority communities. The goal, he said, is to get those elected to "better represent the real values of the communities in which they're running."
"We're realizing these days that we have no chance of fighting climate change and creating a clean energy economy, much less protecting wildlife and wild land, if we can't also protect our democracy," said Sierra Club President Michael Brune.
The best solution to this, according to Lessig, is the legislation offered by Sarbanes and supported by other reformers, because it shifts the focus of fundraising away from big donors and toward the millions of Americans who cannot afford to make $1,000 contributions.
"I don't think the problem gets solved unless we have citizen-funded elections," Lessig said.
*****
The model that Lessig, Sarbanes and other reformers are championing is inspired by the public funding system that New York City adopted in 1999. That system provides a 6-to-1 match of public dollars on the first $175 of all contributions made to participating candidates. It has been hailed a big success for empowering donors in lower-income and minority neighborhoods. Observers have pointed to Bill de Blasio's victory in the Democratic mayoral primary this year as another success of the system.
Previous reform efforts sought to eliminate or severely limit private money in elections. In the "clean money" systems pushed at the state level in the mid-1990s through the mid-2000s, candidates would receive a lump-sum payment of public funds to cover the cost of the campaign, in exchange for renouncing nearly all private funding.
The presidential public funding system provides a 1-to-1 match on the first $250 of all contributions during the primaries and a lump-sum $91.2 million payment for the general election. Candidates are required to abide by spending limits in both the primary and general elections to receive the public funds.
But a series of Supreme Court decisions between 2008 and 2011 gutted provisions in both the federal campaign finance laws and clean money systems, and the Citizens United decision ensured that outside money could not be kept away from elections. The lump sum provided in the presidential system eventually became too small for general election candidates. In 2008, Barack Obama became the first candidate to not participate in the program during the general election, and in 2012, neither Obama nor Mitt Romney took part.
Unlike other campaign finance reform efforts, the New York City model accepts the role of private money in elections. In 2001, progressive writer Mark Schmitt called the city's system "an evolutionary leap," because it acknowledges that loopholes in campaign finance laws will always exist and that there is no way to completely prevent private money from finding its way into elections.
Democracy 21 President Fred Wertheimer, the dean of the Washington-based reform community, embraced the New York City model as an answer to the broken presidential financing system following the 2008 election.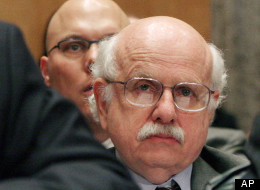 Fred Wertheimer, president of Democracy 21.
"It is completely focused on the role of the citizen in financing elections in a post-Citizens United world, and it is designed to empower them and encourage their participation by making their contributions much more important," Wertheimer said.
Whereas the previous generation of reformers had attempted to get money out of politics, the current efforts aim to change the nature of fundraising rather than to end it completely.
"What's great about matching funds is it still incentivizes candidates to build real grassroots support in perpetuity to get more and more matching funds, and it signals to the little guy that their small-dollar contribution can make a big difference," Progressive Change Campaign Committee co-founder Adam Green said.
Lessig simply rejects the basic premise behind previous reform efforts. "I just think it's terrible to think about creating a First Amendment that says that money is not speech," he said. "That's just crazy."
Not everyone in the reform community agrees, however, that the Sarbanes bill represents the full realization of the small-donor empowerment model created in New York City.
Veteran reform groups in Washington, led by Wertheimer, back competing legislation put forward by Reps. David Price (D-N.C.) and Van Hollen, which would provide a 5-to-1 match on the first $250 of any contribution up to $1,250 for congressional candidates. It would also provide a similar small-donor matching system for presidential elections and clarify the law restricting coordination between super PACs and candidates.
Other progressive groups argue that the Price-Van Hollen bill would continue to empower big donors more than small donors. Green called the bill "weak and ineffective."
"It just doesn't solve the problem and really just creates subsidies for big-dollar donors," he said.
Wertheimer disagrees, saying that the Price-Van Hollen bill is "the closest" to the New York City model "of any of those bills around."
The Sarbanes bill, Wertheimer argues, is not true to the New York City model because it only matches contributions of $100 or less and places low contribution limits on participating candidates. The New York City system matches the first $175 of any donation.
"It's very difficult for me to understand how groups that are supporting and advocating strongly the same kind of system in New York that exists in the Price-Van Hollen proposal can then credibly turn around and say, 'Well, that's just too objectionable for us,'" Wertheimer said.
Other supporters of the Price-Van Hollen bill, however, find the protest by some progressives unnecessary.
"It's not worth spending a whole lot of time fighting about any of this stuff," said Meredith McGehee, policy director of the Campaign Legal Center. "There's always a tendency within any coalition to gather around in a circular firing squad and shoot each other."
Though they've welcomed the new crop of campaign finance reformers, longtime activists believe the focus of reformers should be on building political support for their ideas in Washington.
"A lot of times it's the down and dirty how-do-you-win-this in politics," McGehee said.
But those pushing to upend the way campaigns are financed say that they need to look beyond the machinations on Capitol Hill and embrace a bigger, bolder vision.
"Nearly everyone in the movement and outside of it accepts the fact that we are going to need to build a huge grassroots movement if we have any chance of doing anything," said Josh Silver, CEO of Represent.Us, a new reform group organizing around its own bill to empower small donors and reform lobbying laws.
To do that, Silver said, there needs to be a significant shift in how reformers talk about the issue.
"You have to shift to corruption and away from democracy and campaign finance reform and getting money out of politics," Silver said, echoing the language Lessig has used. "The top-line message has to be corruption. The simple reason is if you go to a Walmart or you're at a campground or you're at church and you talk to somebody about campaign finance reform or even democracy, their eyes tend to glaze over. If you talk to them about political corruption, they get fired up and start talking about how much they agree with you."
*****
Instead of looking to the traditional reform effort's backers -- typically large foundations like the Rockefeller Brothers Fund, which tend to dole out small amounts of cash for isolated projects -- the new class of reformers are looking to an alternate source of capital.
"It's going to need money on a completely different order of magnitude than anybody is talking about," Lessig said.
McGehee agrees. "If you look at the traditional funders on the reform side, they dole out little teaspoons at a time. What's your deliverable? What's your conference? You're never going to have societal change when you approach it like that."
To back their bold vision, the new crop of reformers are looking to funders who similarly embrace societal change: Silicon Valley entrepreneurs.
"These are people who think about taking risks in order to produce world-changing results," Lessig said. "This is the venture capital mindset. It's, 'OK, I'm going to sink $50 million in this and maybe nothing comes of it, but if something comes of it, it's world-changing and that's the kind of game I'm interested in. I'm not interested in on-average 3 percent return. I'm interested in radical change in the way the world is.'"
Silver said that much of Represent.Us funding has come from Silicon Valley, including from current and former employees of Google and Facebook.
"I found this really, really resonates with a wide variety of people," Ethan Beard, former social media director for Facebook and a board member and funder of Represent.Us, said. "It's been getting great support from people here in Silicon Valley."
Another group, the Fund for the Republic, is working to raise $40 million over the next five years for the numerous new and old groups working to reform campaign finance law.
"The funding is way too programmatically focused and way too focused on short-term returns, and we have to take a play out of the conservative playbook and think about funding for structural issues, which means we have to think in a longer time scale and be less concerned with specific programs initially and more with the overall strategy and health of the field," said Nick Penniman, president of the Fund for the Republic.
The large membership organizations that have recently joined the reform effort note that their members are ready to be mobilized.
"The thing that we bring to this whole fight has always been our greatest strength, whether it be us or the Sierra Club or the NAACP, which is our members and getting them engaged in the process," said Shane Larson, legislative director for the Communications Workers of America.
Given the partisan gridlock in Washington, any chance for success also relies on motivating conservatives as well as liberals.
"I think that actually the right is a natural base," Lessig said. "We're never going to get a majority of Republicans in Congress, but I do think we can get a majority of outside-the-Beltway Republicans to agree with this point, absolutely."
Richard Painter, a former ethics counsel to President George W. Bush, agrees. "I'm of the view that there's no way you're going to limit the size and scope of government unless you deal with the money in the campaigns, because all these people do, who want to soak off the government for more contracts, is hire lobbyists, put a little campaign money, and then you get enormous leverage from it," he said.
Painter is a proponent of the concept of tax credits or vouchers for contributions, which would give all Americans the means to take part in the money election that precedes the general election.
"Some would call that government subsidy," Painter said. "I don't. I think that's a taxpayer's money. It's not the government's money. And my view is that if you pay taxes, you ought to be able to designate some of that money for the process of choosing who is going to spend the money."
All the new energy around campaign finance reform notwithstanding, the effort still faces an uphill battle.
"I think it will probably take some critical issue or scandal or monumental event to move Congress to actually act on this, because the record low approval rating, all the other frustrations voiced by the American public, really doesn't seem to be moving this," Rep. O'Rourke said.
Indeed, Congress created much of the current campaign finance regulatory system after the Watergate scandal, and the McCain-Feingold reform legislation passed immediately following the Enron scandal in 2002.
"It's not an implausible final step," said Green of the Progressive Change Campaign Committee, referring to waiting for a moment of public outrage. "It's probably the easiest step of all."
But sometimes even scandal isn't enough to facilitate change. There was, after all, a push for reform in 2009 and 2010 as well, following a global financial meltdown that many traced back to the financial industry's influence in Washington. That effort came up short.
This is where the divide between the new and old reformers comes into stark relief. While the new class of reformers are focused on selling a "bold" bill to grassroots Democrats and Republicans, veteran reformers talk about the end game in Washington.
"In the history of campaign finance reform battles going back to the Watergate reforms, they have never been won without bipartisan leadership and support, because someone has always got 41 votes out there, unless some things change," Wertheimer said, noting the number of votes needed to maintain a Senate filibuster.
Wertheimer worries that the Sarbanes bill's low matching fund threshold would not prove attractive to Republicans and would not provide enough money for candidates looking to compete in elections that feature super PACs lurking around the corner.
Time is also a concern for groups seeking to reform the system. Big membership groups now engaged on the issue envision a 10-year plan to organize support for a reform bill, and new groups focused on building a movement similarly take a long view.
Lessig believes, however, that reformers need to strike while Americans are still outraged by the Citizens United decision and before they accept the new levels of spending and sink into cynicism.
"This 10-year movement, I guess, I don't buy it," he said. "And I don't buy it because I think it's got the physics of reform wrong." Lessig advocates finding the "Saturn V equivalent" to blast the reform effort "into orbit."
Reform veterans point out that there will never be a final fix for campaign fundraising. "Nobody ever says, 'Pass one tax bill and you're done,'" McGehee said. "Why should there be one campaign finance bill and then you're done? So it's kind of this constant struggle."
The new reformers are not blind to the challenges of passing campaign finance legislation, particularly given the current partisan divide in Congress. But they still want to think big and bold.
"I'm not naive on that point, but what's the alternative to trying to press for something different here?" Sarbanes asked. "You can't keep a democracy going in a functional and constructive way if only 10 percent of the people you represent think your institution is functioning in an acceptable way. That's just not viable."
This story appears in Issue 72 of our weekly iPad magazine, Huffington, available Friday, Oct. 25 in the iTunes App store.
BEFORE YOU GO
PHOTO GALLERY
2014 Election: $500,000-Plus Super PAC Donors