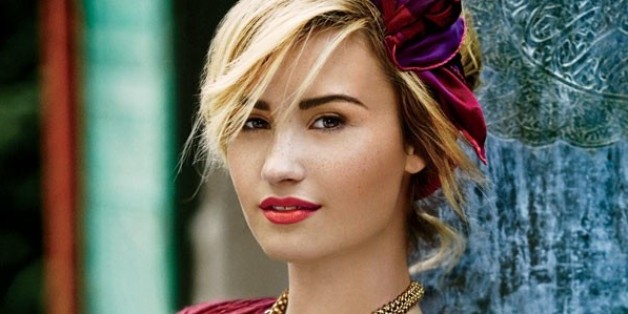 Demi Lovato is November's cover star of Teen Vogue. The singer and "X Factor" judge stuns in the boho-inspired photo shoot (scroll down for images), and in the interview she opens up about body image, love and her upcoming role on "Glee."
On playing Santana's love interest on "Glee":
"I'm honored to portray a character that's representing this chapter in our society. Being true to your sexuality and yourself is becoming the norm."
On self-acceptance:
"I don't have the body of a model or Barbie. My main thing about being in the spotlight with my fans is, I want to be real to them. I have my problem areas, but I'm happy in my skin right now. I'm not going to sacrifice my mental health to have the perfect body."
On her fellow "X Factor" judges:
"Kelly and Paulina are just as vicious as I am with Simon. Simon doesn't know what to do! It's hilarious."
On learning to speak up for herself:
"You've gotta be honest with people around you. And honest with yourself. When you're having a rough day, be like, 'I don't want to talk about this, but I need to get it off my chest.' If you have a secret—secrets make you sick."
On what she looks for in a boyfriend:
"Someone who loves me and appreciates me for who I am. Who I can hang out with in sweatpants and no makeup, because that's what I do when I have my time off."
On finally finding happiness:
"It may seem boring to other people, but my whole life I've lived at a really intense level—whether it's fame or this or that. I've always worked really hard. Now I've gotten to the place where I'm healthy, happy. And my family is happy and healthy. When I do have free time, I love just sitting here and inviting people over and watching movies, or going to the movies. It's a big night for me if I go bowling."
PHOTO GALLERY
Demi Lovato On Teen Vogue
Read more on TeenVogue.com

The Best Dressed College Students Across the Country
Star Power! We Look to Hollywood for Fall Hair Color Inspiration
Pretty Please! Fall's 100 Cutest Dresses
Date Night Makeup Ideas to Try This Weekend
Celebrities Show Us How to Make Sweats Chic
BEFORE YOU GO
PHOTO GALLERY
Hailee Steinfeld Teen Vogue October 2013 Shoot