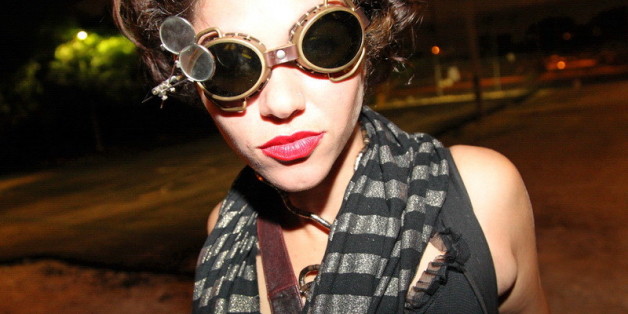 BY JIPSY, NEFARIOUSGIRL.COM
For their first time at bat, the III Points Festival in Wynwood was cramped with artist conversations, discussion panels, concerts and dance parties. And lets' not forget the technology presented by Samsung. Though I didn't see a huge presence of Samsung technology throughout the festival, Natasha Lopez De Victoria of TM Sisters sported the new Samsung Smart Watch, covering all her adventures over the weekend.
Skipping the discussions and panels, my scheduled was filled with DJs, bands and shows. Maybe because I'm not a fan, hearing James Murphy speak didn't matter and listening to him play was alright. The Yacht performance was, as always, amazing. They are superstars. Next was the warehouse party that Kryogenifex hosted called Freeze, which may have been my favorite daytime party this year. So simple. It was good music, super cheap drinks and free nitro cocktails if you didn't mind waiting and the cool air of kryo was being released everywhere including the port-a-potty. Finally, the secret-no-so-secret Boiler Room party on Saturday -- or technically early Sunday morning -- was a lot of fun, but I left early, feeling good I had partied and danced for two days straight and hours I can remember.
Personally, two and a half days to jam all the things they wanted to do for this festival wasn't enough. If there is a next year, I'm sure it will be better, as they say about experience. But this time, as a fellow tech head and Samsung user, I'd like to have my own piece of technology during the entirety of the festival and really give it a real test drive. -- Jipsy
PHOTO GALLERY
III Points Festival In Wynwood