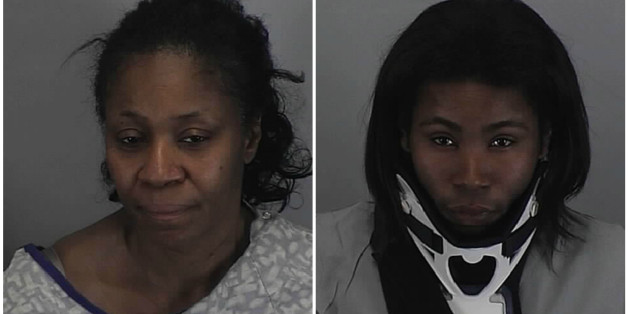 In an inter-generational twist on Bonnie and Clyde, police arrested a mother and son who they say led cops on a high-speed Friday morning chase.
According to a police briefing, a patrol officer in Ferndale, Mich., which borders Detroit, was flagged down by the drivers of two different vehicles in a parking lot Friday morning. One of the drivers told the officer that a road rage incident had just taken place -- the woman in the other car had allegedly thrown a cup of hot coffee onto the driver.
That woman, Latanya Tippet-Rhodes, age 50, of Plymouth, was also in the parking lot. Her son, 23-year-old Drake Rashard Rhodes, was in the passenger seat of her Chevy Cruze.
When the patrol officer continued to investigate the alleged road rage incident, the pair fled from the parking lot and hit the gas. As police kept up the chase through the streets of Ferndale, they say Tippet-Rhodes accelerated to 80 miles per hour in the Chevy Cruze.
When she turned northbound onto Hilton Road, police said she slowed the car so her son Rhodes, who was dressed as a woman, could jump out of her moving vehicle. Chased by officers on foot, he kept running toward Eight Mile Road. Police said Rhodes ran through seven lanes of traffic before being struck by a car in the eighth and final lane. Even then, Rhodes kept trying to run away before being apprehended by police. They say the son suffered apparent minor injuries and was taken to a local hospital for treatment.
Ferndale Police Lt. William Wilson told the Detroit Free Press that the boy's dress originally had police wondering whether the pair were involved in any theft (but says they ultimately were not). "He bailed out of a fleeing car dressed as a woman like that, the officers don't know what's going on -- a disguise for a robbery?"
Police also finally nabbed Tippet-Rhodes. She told the officers that she was having medical problems when she was arrested. She also reportedly spit on one of the cops. When the two arrests were made, Ferndale Police realized the mother-son duo already had several outstanding warrants out for their arrest in nearby Washtenaw County, including one warrant of resisting and obstructing for the son, and two assault warrants for the mother.
For now, Tippet-Rhodes has more charges to face -- after being arraigned Saturday, she was charged with fleeing and eluding, resisting police and driving with a suspended license. Her bond was set at $75,000.

BEFORE YOU GO
PHOTO GALLERY
Dumb Criminals: Mugshot Gallery