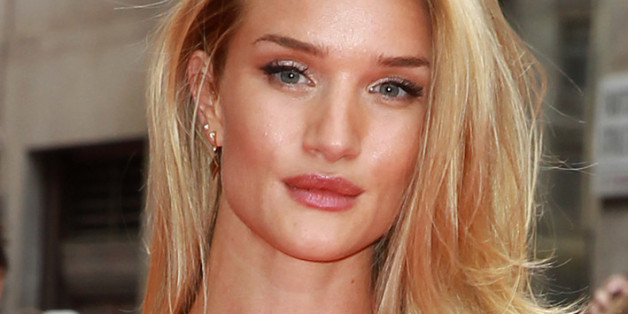 After 10 years in the biz, Rosie Huntington-Whiteley is opening up about her rise to model superstardom. In a confessional new interview with The Guardian, the Victoria's Secret supermodel remembers getting the kind of drastic early-career diet advice we hear about all too often.
At the tender age of 15, Rosie recalls that one agent instructed her to subsist on a scarce diet. Thankfully, Huntington-Whiteley was smart enough to know better than to listen:
When she was starting out, one agent advised her to eat "a single piece of sushi a day". "My eloquent response was: 'Go fuck yourself!'"
We're relieved that Rosie had the courage and conviction to stand up for herself, seeing as many young models feel pressured to reach an unhealthy body weight in order to succeed in the industry. Last week, we heard model Georgina Wilkin's story of receiving similar advice at 15, which spurred on her eight-year battle with anorexia. And models aren't the only ones getting diet advice; Jennifer Lawrence met similar body criticism early in her career, too. Now, Lawrence insists, she'd respond to such advice with the same colorful words Rosie shared.
Yet Rosie is hopeful for today's rising class of models. Thanks to an increase in press coverage, not to mention their own active presences on social media, Huntington-Whiteley insists that the industry no longer views models as disposable clothes hangers, but as three-dimensional people instead. "Everybody wants to know the models," she tells The Guardian. "You're more real now than ever... It's more expected now for supermodels to be smart, to have opinions, to have a personality."
We couldn't agree more -- here's to learning more about the brains behind these beauties!
Rosie's rise to supermodeldom:
PHOTO GALLERY
Rosie Huntington-Whiteley's Style Evolution
Want more? Be sure to check out HuffPost Style on Twitter, Facebook, Tumblr, Pinterest and Instagram at @HuffPostStyle.