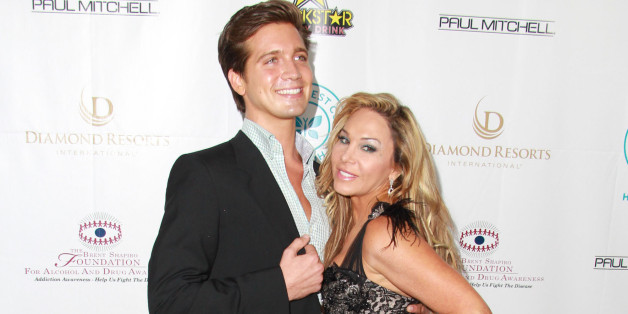 Adrienne Maloof might not have known just how young her new boyfriend, Jacob Busch, was when she first met him.
The former "Real Housewives of Beverly Hills" star, 52, opened up to E! News recently about her 24-year-old beau, explaining: "When you meet someone they don't have a number on their forehead."
"We have a common interest—our families have known each other for a long time," she said of Busch, whom she met on Sept. 7 at the Brent Shapiro Foundation's Summer Spectacular in Beverly Hills. "Our great grandfathers knew each other through the liquor industry. When we met we just hit it off. It felt so natural, so organic."
Busch is heir to the Anheuser-Busch fortune and the Maloof family has roots in beer distribution dating back to the early 1900s, WetPaint Entertainment noted.
On Oct. 1, the new couple hit Star magazine's "Scene Stealers" event where they promoted her vodka, Zing, and engaged in some public displays of affection.

Last year, Maloof finalized her divorce with Dr. Paul Nassif, a plastic surgeon whom she was married to for 10 years. After the split, she dated 33-year-old Sean Stewart, but they broke up in March. Last month, she was linked to 30-year-old Andy Hnilo, owner of Alitura Face and Body Skin Care, according to RadarOnline.com.
Now, it seems she only has eyes for Busch.
"He's a lovely person and a very new friend," Maloof said during an interview with "Extra" last week. "Both of our families have been in the spirits business for a long time. So, he seems very familiar to me and comfortable. So, we'll see. He's a cool guy."
BEFORE YOU GO
PHOTO GALLERY
The Real Housewives of Bravo