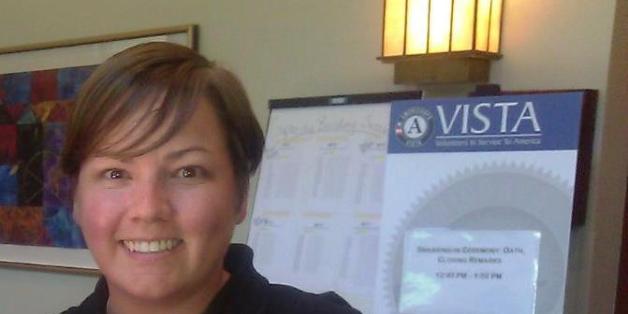 Tiffany Dale receives a $10,800-per-year allowance at her AmeriCorps job. She was told last week that, despite the government shutdown, she would have to continue working without pay for her nonprofit, which is also on a shoestring budget.
Dale, 35, works for a Tennessee organization that gets money from VISTA, a federally funded subset of AmeriCorps aimed at fighting poverty in the U.S. Dale explained to HuffPost that the VISTA program pays members a wage near the poverty line by design, so they are able to gain an understanding of the people they help and how best to serve them.
A week ago, Dale received an email (excerpted below) from VISTA director Mary Strasser, telling members they had to continue working through the shutdown:
The goals of your service are unchanged and all terms, conditions, and benefits remain in place. You are expected to continue your service and will continue to accrue your living allowance, but you will receive payment of your living allowance retroactively once an appropriations measure has been enacted. Other benefits, such as health coverage and Education Award accrual, remain unaffected.

The uncertainty associated with the lapse presents challenges for many of us involved in national service. Thank you for your steadfast dedication to eliminating poverty and your continued service to others.
Late on Tuesday afternoon, VISTA sent out an email to member organizations to say that some members would receive roughly two-thirds of their allowance for the week pending, but that thereafter "the remainder of their living allowance will accrue."
AmeriCorps members aren't technically federal employees, but they are paid by the government.
Dale works in Nashville, Tenn., as a special projects coordinator for CASA, a national organization, funded by VISTA, that fights the cycle of poverty by providing resources to families of abused children. Dale said she doesn't blame AmeriCorps for the shutdown woes, but she said she is frustrated that she doesn't know when she'll be paid again and that nobody can answer her questions.
"To miss a pay period, it's devastating. Especially when you are living with so little," said Dale, who also served in the military for eight years. "I guess I feel disrespected. There's nobody to answer any questions."
HuffPost reached out to AmeriCorps but received this automated response to an email: "At this time, the Corporation for National and Community Service is closed due to a lapse in federal appropriations." Additional calls were not returned.
The Corporation for National and Community Service, which includes AmeriCorps, SeniorCorps, FEMACorps and other programs, said that approximately 95 percent of staff would be furloughed, according to its "Plan for Agency Operations in the Absence of Appropriations."
"Why are our supervisors on furlough and we're not?" Dale asked.
Despite her frustrations, Dale said she is committed to her work in helping to alleviate poverty and believes in the immersion aspect of the program.
"It's not a bureaucrat designing the program with no clue," she said. "The idea behind it is you're living in the same economic bracket so you can better design programs to help people in need."
In other communities, people are trying to buoy local nonprofits that receive VISTA assistance.
Our House, a shelter for working homeless families in Little Rock, Ark., relies on VISTA members to serve meals to families, to plan activities for a children's after-school program and to help members search for jobs and access other resources, executive director Georgia Mjartan told HuffPost.
She said the community has chipped in to help cover bills, rent, utilities and student loans.
"We want to be able to tell our members that no matter how long this shut-down lasts, we will not leave them hanging," she told HuffPost in an email.
Dale said she feels AmeriCorps VISTA should not require employees to work during the shutdown, or employees should be allowed to get a second job, which is currently not allowed. She said she drives 30 to 40 minutes a day and said her gas adds up to $200 a month.
"We seem to have all the responsibilities of federal employees, but apparently none of the protections," she said, adding, "How are we supposed to live without that money?"
This post has been updated with new information about how much VISTA members will receive.
If this story moved you to want to act, support AmeriCorps here.
BEFORE YOU GO
PHOTO GALLERY
2013 Government Shutdown