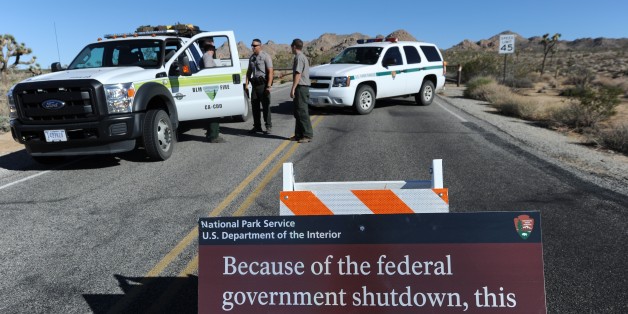 WASHINGTON -- With no end to a federal government shutdown in sight, on Friday Pastor Patrick Dotson of the Grand Canyon Community Church emailed a plea for help in feeding 2,200 workers on furlough from the Grand Canyon National Park in Arizona.
"Even if the government shutdown lasts two weeks, that is an entire paycheck lost to many employees who live paycheck-to-paycheck to provide food and necessities for their families," Dotson wrote to a Phoenix-area nonprofit called the St. Mary's Food Bank Alliance. "I anticipate a great need for food resources beyond my ability to supply from my garage food bank."
On Tuesday, St. Mary's is answering the call with a truck carrying 600 emergency food boxes. First stop is the Tusayan Fire Station, then the Maswick Lodge Cafeteria inside the closed park. The food bank will make the trip twice weekly as long as the shutdown continues, according to a press release.
"We understand the urgency of the problem in the Grand Canyon community and will respond as quickly as possible to assist families," St. Mary's president Beverly Damore said in the release. Her organization works with 300 partner agencies to distribute food throughout the Phoenix area.
Last week Arizona Gov. Jan Brewer (R) and leaders of the state legislature asked President Barack Obama either to recant his threat to veto a Republican bill to reopen national parks or to allow the state to do so with private sector help. Their letter cited a National Park Service study that estimated the park generated $467 million in economic activity and supported 7,400 jobs in 2011.
"As Arizona is no less exposed to the current unstable and struggling national economy than any other state, we cannot afford to turn away this kind of revenue," the Arizona leadership wrote. The National Park Service has rejected plans to reopen the park during the shutdown.
On Tuesday, in addition to St. Mary's emergency food delivery, Grand Canyon businesses are planning a protest near the canyon to register their displeasure with the ongoing budget impasse in Washington, D.C.
The 2,200 park workers on furlough are among 800,000 government employees affected by the shutdown nationwide.
BEFORE YOU GO
PHOTO GALLERY
2013 Government Shutdown