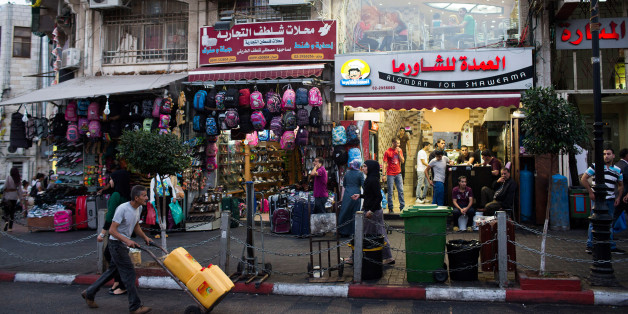 By Noah Browning
RAMALLAH, West Bank, Oct 8 (Reuters) - The Palestinian economy in the Israeli-occupied West Bank shrank for the first time in a decade in the first half of 2013, the World Bank said, blaming a decline in foreign aid and myriad restrictions imposed by Israel.
Israel has pointed repeatedly to strong growth in the West Bank in recent years as vital to restoring relative stability to the area, so news of a worsening outlook will raise concerns of a possible rise in unrest.
The World Bank blamed the 0.1 percent economic contraction on a decline in foreign budget support to the aid-reliant Palestinian government, saying it exposed the "distorted nature" of the economy.
Its report focused particularly on territory known as Area C - some 61 percent of the West Bank which is under full Israeli control. The World Bank said the Palestinians could boost their economy by a third if they were able to exploit this land.
Palestinians have self rule in so-called Area A, which makes up 18 percent of the West Bank, and share responsibility for a further 21 percent in Area B, but the resource-rich Area C is administered by Israel and is home to many Jewish settlements.
"The manner in which Area C is currently administered virtually precludes Palestinian businesses from investing there," the World Bank said. "Since Area C is where the majority of the West Bank's natural resources lie, the impact of these restrictions on the Palestinian economy has been considerable."
The Palestinian Territories, which combine the West Bank and Gaza Strip, saw annual economic growth of some 9 percent in the years 2008-2011. That slowed to just 1.9 percent year on year in the first six months of 2013, with West Bank GDP contracting.
"The faltering nature of the peace process and the persistence of administrative restrictions as well as others on trade, movement and access have had a dampening effect on private investment and private sector activity," the Bank said.
It said donor aid had fallen by more than half in 2012. Economists have blamed the drop on the global economic downturn, dwindling U.S. funding and Arab world uprisings that diverted the attention of wealthy Gulf states.
The years of rapid growth have brought little obvious improvement in people's lives. Unemployment and poverty have grown to affect around a quarter of Palestinians.
NEGOTIATIONS
Israeli-Palestinian peace talks resumed in late July after a three-year hiatus. Negotiators will examine problems raised by the World Bank report, the Israeli foreign ministry said.
"The report touches on numerous important issues which will be settled in the current negotiations," said ministry spokesman Yigal Palmor. He added that the Washington-based bank's analysis was "incomplete, partial .. and therefore totally unrealistic".
Calling Area C "key to future Palestinian economic development", the World Bank said at least $3.4 billion could be added to the economy if it could access the territory.
Much of this growth would come from value-added sectors like mineral extraction at the Dead Sea, quarrying and construction.
Israel has resisted Palestinian economic initiatives and foreign humanitarian help to local residents in Area C, saying its status had to be resolved through peace negotiations.
Jewish Home, a party in Israeli Prime Minister Benjamin Netanyahu's coalition, called for annexing Area C outright during campaigning for parliamentary polls earlier this year.
Netanyahu has said restrictions on Palestinians eased in recent years and this was helping improve their lives and economic prospects.
But violence has been on the increase recently, with Israeli soldiers killing 15 Palestinians in the West Bank this year and Palestinian militants killing three Israelis. (Editing by Crispian Balmer and Tom Pfeiffer)