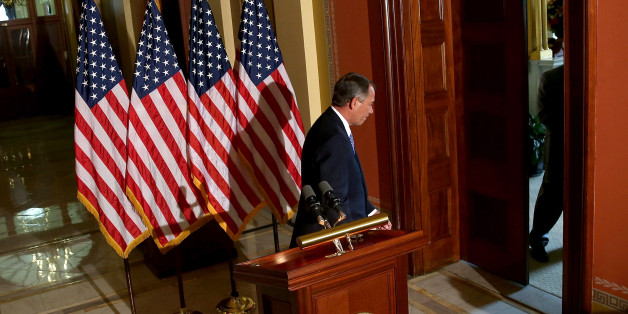 WASHINGTON -- A Texas food bank howled Monday that the federal government shutdown had forced the U.S. Department of Agriculture to withhold 10 truckloads of food from hungry people. The claim received a good deal of press attention.
But the USDA says the truck cancellations had nothing to do with the shutdown, and that the food they would have carried will come in other trucks.
"Those orders were initially adjusted during the summer," USDA spokesman Bruce Alexander told HuffPost. "This happens all the time with states whenever we find good deals or a better price or food."
It's another case of shutdown whiplash. While federal agencies made clear at the outset that the biggest safety net programs wouldn't be affected by a brief lapse in appropriations, the shutdown has delivered chaos to some smaller programs, resulting in confusion over which ones are closing and which are not.
Last week several states said they'd have to scale back or halt the Special Supplemental Nutrition Program for Women, Infants and Children, which serves 9 million struggling moms and babies nationally. "I'm honestly floored at this point that the government shutdown -- there are going to be kids who are hungry because of this," one WIC recipient told HuffPost. "I shouldn't have to pick between my groceries and my bills because a bunch of grown people can't come to an agreement."
The federal government soon freed up contingency funds and those states -- Arkansas, Iowa, Louisiana and Utah -- said they would continue issuing vouchers for baby formula after all. And then on Tuesday, out of nowhere, North Carolina said it wouldn't be able to.
The federal budget crackup initially shuttered Head Start programs for more than 7,000 children in several states, causing turmoil for their families. "I feel so bad for Matthew being stuck in the house and I'm not having the money to put him in another program," a Head Start mom told HuffPost.
But then a pair of philanthropists pledged up to $10 million to reopen Head Start for the rest of the month.
And Arizona announced it would halt benefits for 3,200 families under the Temporary Assistance for Needy Families program, which serves 4 million nationally. Safety net experts were amazed that unlike every other state, Arizona was shutting down its welfare program, which gives poor Arizonan families an average of $207 per month. Then on Monday, Gov. Jan Brewer (R) ordered the state's Economic Security Department to use emergency funds to replace the benefits.
"The consequences to Arizona's vulnerable families will be dire if the federal government shutdown is not resolved by November," Brewer said in a release.
The North Texas Food Bank, a nonprofit representing 262 partner organizations with 1,000 food distribution locations in the state, acknowledged that some kind of misunderstanding had led it to announce the 10 truckloads of food had been canceled because of the shutdown. Director Jan Pruitt said that the USDA is correct that orders sometimes change when food prices fluctuate.
But Pruitt said the shutdown still means that an additional 36 truckloads of food can't be cleared for future delivery while the shutdown goes on, out of 134 orders scheduled from now until February. The food would be delivered as part of the Commodity Supplemental Food Program or the Emergency Food Assistance Program, which serve low-income seniors and food banks. Pruitt said that of the million pounds of food her organization distributes each month, 20 percent comes from those two programs. The shutdown has hobbled both.
While it's unlikely the budget impasse will continue for six months, Pruitt's organization is highlighting the truckloads of food that would be missed if the shutdown continued for that amount of time. She said the media is paying too little attention to poor people's problems.
"Everybody's so concerned about the uncertainty for the stock market," Pruitt said. "I'm concerned about the uncertainty for people going to the local market."
BEFORE YOU GO
PHOTO GALLERY
Conservatives Pointing Fingers