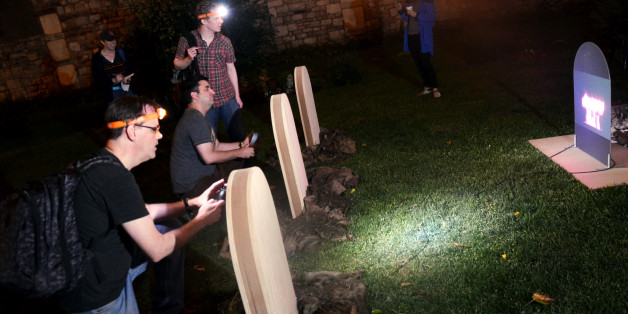 About 300 finance guys and girls raked in millions while pulling an all-nighter last weekend, but it wasn't to line their already padded pockets.
From sundown on Saturday until 2 p.m. Sunday, 10 teams comprised of young whip smart employees from Goldman Sachs, Morgan Stanley and other high-profile firms hit the streets of New York City to compete in a scavenger hunt that involved solving puzzles, deciphering clues and fighting their way to the finish line –- all while raising money for charity, Bloomberg reported.
The entry fee was $50,000 (most turned to their managers for help) and the project altogether raised $2.9 million for Good Shepherd Services. The nonprofit helps more than 25,000 at-risk youth and their families every year.
While they certainly raised a considerable amount, turning Manhattan into a playground doesn't come cheap.
Last year, Midnight Madness cost about $270,000 to put on, but was paid for by Goldman Sachs Gives, a philanthropic fund financed by the firm.
"I wanted to be able to tell donors that every dollar they donated would go to the charity and not to operating costs," Goldman Sachs partner Elisha Weisel told Quartz last year.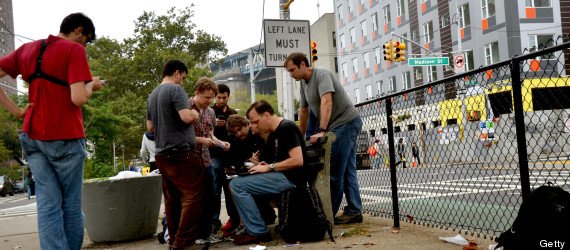 Altogether, the game raised $1.4 million for charity in 2012.
Before breaking their heads on challenges that involved a number of tasks, including building a piano and decoding ciphers, teams made sure to fuel up. One group of Connecticut hedge-funders hit up Nobu before the event, but all convened at an abandoned Pathmark to start.
After an exhausting near 20 hours of playing, the groups were reminded why they had tired out their minds and bodies.
"The connection with 'Midnight Madness' is that every day we are working to solve the puzzle of extreme poverty," Sister Paulette LoMonaco of Good Shepherd Services told Bloomberg.
BEFORE YOU GO
PHOTO GALLERY
Goldman, Morgan Compete In Scavenger Hunt For Charity