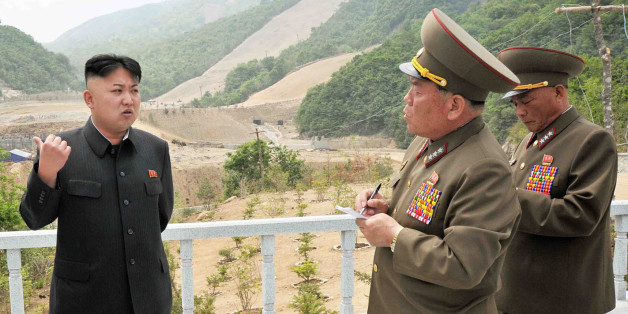 Hey Kim, need a lift?
North Korea took the offensive in a bizarre PR war after the country failed to obtain ski lifts for its Masik Pass resort, which is currently under construction. The Hermit Kingdom accused Switzerland of "a serious human rights abuse" when the European country blocked the sale of high-end lifts to infamous dictator Kim Jong Un.
(Story continues below.) In this Aug. 23, 2013, photo, North Korean soldiers work on a building project to construct a ski resort at North Korea's Masik Pass. The project recently hit a roadblock after Swiss authorities blocked the sale of chairlifts to the country. (AP Photo/Kim Kwang Hyon)
North Korea, which stands accused of numerous actual human rights abuses, made the statement via its state news agency, KCNA, to China's state agency, Xinhua. Specifically, the statement targeted Switzerland for "depriving Koreans of their elementary right to enjoy a cultural life," which, North Korean officials say, contradicts a stated commitment to ideals such as "equality of all people" and the "defense of human rights."
The sale went downhill, so to speak, after Switzerland's State Secretariat for Economic Affairs blocked a $7.6 million agreement between Pyongyang and chairlift manufacturer Bartholet Maschinenbau. Chairlifts are considered a "luxury good," and therefore are subject to a United Nations trade sanction.
North Korea's ski official, Kim Tae Yong, told The Associated Press that the country has 5,500 skiers, which, in a country of 24 million, means approximately 0.02 percent of the population is likely see the slopes as an asset. Yet the country is adamant that Masik will not just serve the elite.
According to The Washington Post, Kim Jong Un is rumored to be a big fan of skiing. North Korea previously stated a goal of opening the ski area by Oct. 10 and labeled its construction a top national priority.
BEFORE YOU GO
PHOTO GALLERY
Pyongyang Celebrates 60th Anniversary Of Armistice