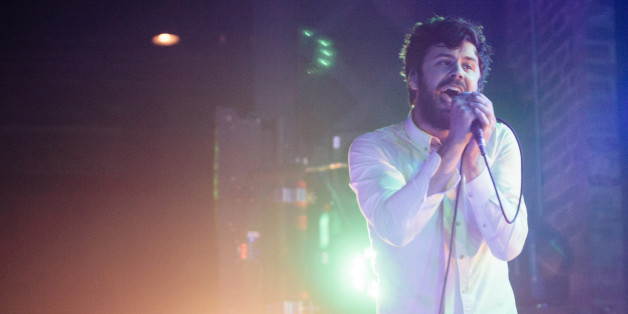 Passion Pit has once again had to cancel shows, a decision that the band explained in a lengthy and intense open letter posted to the band's website on Tuesday.
Frontman Michael Angelakos and his bandmates posited three main reasons for cancellations: general illness, mental illness and weather. Angelakos suffers from bipolar disorder and has dealt with serious depression and survived suicide attempts in the past, but he writes now that "this only hurt us a few times, and it was well over a year ago."
There are many reasons bands or artists cancel shows. Here are a few of them, many of them have applied to us:

1) General Illness. Though many bands play through illness, sometimes it's absolutely necessary to take a night off to ensure that the rest of the tour survives instead of beating your body up only to have to risk canceling more shows in the future. This is how so many singers lose their voices, or people develop long-term illnesses. It's just not worth it.

2) Mental illness. Most of our fans know about my condition but this only hurt us a few times, and it was well over a year ago, and I work my ass of to make sure I can get out on stage and tour. More on how we made up all of these shows later.

3) Weather. Outdoor stages that are built into muddy grounds have caused death (so many examples of this). Rain and electronics, as we all know, also really don't mix. Sometimes, other stationary stages are said to be "rain or shine" but do not actually have the capability of fully protecting the gear. As some of you may know, we lost SO much gear and money a few weekends ago due to a storm, and we're not about to mess it up on our final trek for "Gossamer." That could potentially end an entire tour and then that'd be it. No more touring. See you maybe in 2014. Not fun.
The band stresses that they wouldn't have canceled shows if they had any other choice, but that DJ'ing in place of performing during inclement weather didn't really work out for them (they were heckled), and their equipment is too customized and expensive to risk damaging it like they did earlier this year.
"Please understand that if Passion Pit cancels a show, it's canceling a show for a damn serious reason, and we're not messing around with our fans," Angelakos writes. "We're trying our hardest and we are so sorry for the inconvenience. There's only so much we can do."
In asking fans to think before getting upset, Angelakos reminded them who really suffers when a concert is canceled:
We lose the most. We lose the trust of our fans because of innocent naiveté, an ignorance in regards to how these things are done. WE lose the trust of those who don't understand how many people are involved in our show, from our touring crew to local crew, how much planning goes on for months and months to prep, how much money is spent to keep the tour rolling, and how much we need to tour to make sure we can afford to put on the show we want to do and still end up being able to pay our bills and continue to do this for a living.
For the full letter, head over to the band's website. For an in-depth interview with Angelakos about everything from mental illness to the state of pop music, read our earlier coverage.
PHOTO GALLERY
BEFORE YOU GO
Passion Pit Songs
PHOTO GALLERY
Passion Pit Songs