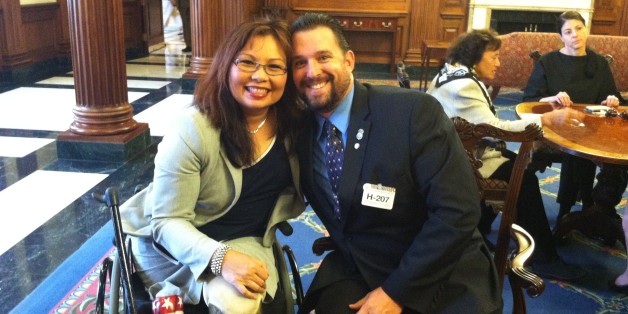 WASHINGTON -- Scott Gillis sat in the House balcony on Thursday, watching a speech by Rep. Tammy Duckworth (D-Ill.). The last time Gillis had seen her, she was unconscious, bleeding profusely and in need of life-saving surgery.
Gillis was one of the medics who helped save Duckworth's life in 2004. Back then, he was an Army sergeant stationed in Iraq, and Duckworth was rushed into Gillis' hospital tent after her helicopter was hit by a rocket-propelled grenade. Before passing out, Duckworth, an Army pilot, somehow managed to help land the helicopter, despite injuries that led to both of her legs being amputated and one of her arms being damaged. Gillis was there to receive her, helping to stabilize her before she was flown to Germany for emergency surgery. He never saw her after that.
Despite having treated more than 2,000 soldiers during the war, Gillis said he always remembered Duckworth. There were a couple of things about her that stood out.
"The grotesqueness of her injuries and that she was a woman," said Gillis, now 40 and living in Northern Virginia. "We also got briefed as to what happened to our patients when we got them."
Eight years went by before he thought of her again. In August 2012, he watched his TV with disbelief as someone named Tammy Duckworth walked out on stage at the Democratic National Convention with prosthetic limbs, talking about her military experience and her run for Congress. That's when it began to register that not only had Duckworth survived, but she had gone on to make something of herself. It was surprisingly painful for Gillis.
"When I finally made the connection as to who she was, I wasn't right for three days," he said. "I hadn't realized that I never found out what had become of any of my patients that lived. She was my first one. You would think it would have had a happier effect on me, but I think it opened a box I didn't know existed."
He added, "People died. You kind of know how it went for them."
This Huffington Post reporter, who is friends with Gillis' wife Melissa, heard Gillis' story over dinner one night in the spring of 2013. After a series of messages between Gillis and Duckworth's congressional office, a meeting was finally set for Oct. 3 in a quiet room in the Capitol. The two sat together for more than half an hour and shared stories. When HuffPost wandered in, it was obvious both were stunned at what was happening. By the end, they were laughing like old friends.
"I don't remember anything," Duckworth said of being brought into Gillis' tent, joking about intubation being more painful than her legs being amputated.
"I might have an old complaint card if you want to fill that out," Gillis said.
"Oh yeah, would you? That'd be great," she replied.
"He said I was unconscious, but later on ..." Duckworth said, before Gillis jumped in: "She was ignoring me." Duckworth replied, "I was pretending to be dead, hoping he would go away."
Duckworth eventually had to head to the House floor, but their time together didn't end there. Gillis sat with Duckworth's staff in the balcony and watched as she spoke below about the need to ensure veterans are taken care of during the government shutdown. Two days later, Gillis was Duckworth's guest at a dinner for wounded warriors. He said he couldn't get over how nice she was to him.
"She was just so familiar. The first thing she did was give me a hug. I was so blown away," Gillis said afterward. "I must have told her 25 times, 'I just can't believe I'm sitting here with you.' She would be like, 'Alright, I need another big hug.' I'm like, 'Oh my god, you're a real person. This job didn't somehow fuck your head up.'"
Gillis says he doesn't know when he may talk to Duckworth again, but the fact that he got to meet her at all has had a huge effect on him -- and his process of healing from the horrors he endured in Iraq.
"Melissa has been remarking for days that I seem in a better mood. Not coincidental, I'm sure," he said. "Maybe it was just Tammy and I can know that some people did in fact do okay after getting so hurt. Kind of like closure."
BEFORE YOU GO
PHOTO GALLERY
113th Congress Facts