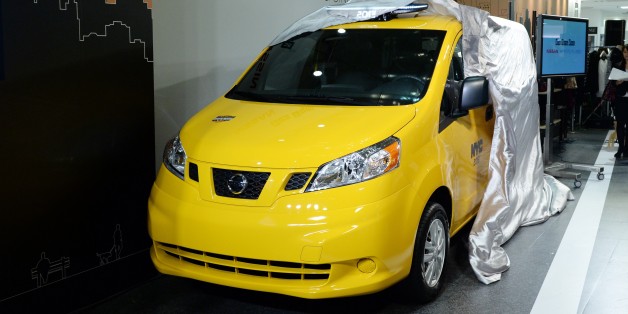 Mayor Bloomberg's "Taxi of Tomorrow" plan was rejected by the New York State Supreme Court on Tuesday due to an "overreach of executive authority," making it the second of Bloomberg's initiatives to be rebuffed for overstepping boundaries.
The first, of course, was Bloomberg's controversial soda ban.
Judge Schlomo Hagler ruled that the city does not have the authority to force taxi owners to buy the new Nissan "Taxi of Tomorrow" NV200 models.
"Simply stated, the power to contract and compel medallion owners to purchase the Nissan NV200 from Nissan for ten years does not exist in the City Charter," Hagler wrote in his decision. Hagler believes it falls to the City Council to set these standards.
The plan was initially intended to go into effect on Oct. 28 which would lead to the eventual overhaul of all other taxi designs by 2018. Michael Cardozo, the city's corporation counsel, has already issued a statement of the city's intent to appeal the decision. "It was well within the TLC's authority to authorize the Taxi of Tomorrow," Cardozo said in a statement according to the Wall Street Journal.
Nissan has a $1 billion, 10-year contract with the city stipulating the Japanese manufacturer will be the sole manufacturer of the city's 13,000 cabs.
However, the design of the Nissan NV200 was criticized for not being handicap accessible. Only 2,237 of 13,000 cabs would be outfitted with an optional pull-down ramp, according to a Businessweek report, which looks like an oversight considering the NV200 is otherwise bursting with amenities that include: tinted, transparent roof panels ideal for skyscraper gazing, floor lights, sliding doors, charging stations and antimicrobial, odor-absorbing upholstery.
Nissan put $50 million into development and production for which the city could potentially still be liable for.
Bloomberg and company intended for the "Taxi of Tomorrow" to be a real upgrade to the modern taxi and it would have been the first major redesign since the phasing out of the checker cab.
Along with the lack of handicap accessbility, the NV200 initially was criticized for not being a hybrid electric vehicle. At 25 miles per gallon, the model was not exactly fuel efficient and New York Magazine called it a "clunky cab" and "suspiciously suburban."
Bloomberg appeared to take the lawsuit personally. Last May, the mayor reportedly told New York Taxi Club Management CEO Evgeny Freidman, "Come January 1st, when I am out of office, I am going to destroy your f***king industry."
The exact future of the "Taxi of Tomorrow" remains a bit uncertain at the moment, but both Bloomberg and Nissan say they intend to push forward.