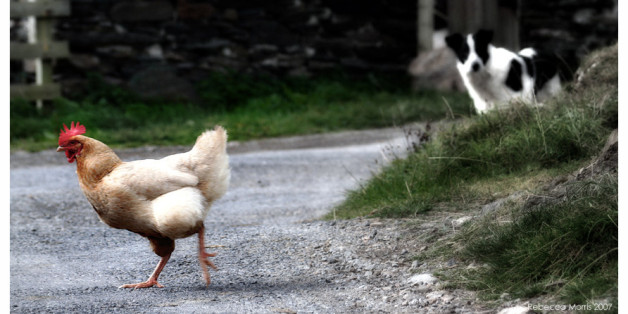 The battle between those who want backyard hens in the D.C. suburb of Arlington and those whose website features the slogan "No Clucking Way!" has been compared to a Portlandia sketch.
We're taking suggestions for what TV show it resembles with this new development.
Arlington Now spoke with Northern Virginia's most vocal poultry foe about a law under which dogs that commit certain "depredations" against poultry and other livestock may be killed on sight:
Virginia law section § 3.2-6552 allows for citizens to kill any dog caught in the act of killing or injuring poultry. After the fact, Virginia courts have the power to order animal control officers to kill any dog found to be a "confirmed poultry killer."

The little-known law may be a deal-breaker for dog-loving Arlington residents, should the county follow a task force recommendation and require potential hen owners to first win the approval of adjacent property holders.

"That could really cause some problems between neighbors," said Jim Pebley, of the group Backyards, Not Barnyards, which opposes urban chickens in Arlington. "This just adds another reason why relaxing restrictions on raising poultry in residential areas is not a very good idea."
Joan Schaffner, a professor at the George Washington University Law School specializing in animal law, tells HuffPost that the Virginia law "would appear to apply" toward dogs that kill backyard chickens (rather than commercial operations), even though the law's drafters "did not anticipate backyard hens."
Officials in other parts of Virginia have also suggested that the law does pose complications vis-a-vis backyard chickens. For good reason -- here's a recent case in California, which has a similar law, where authorities said that a man's beating and burning of two dogs appeared to be permitted, since the dogs were attacking his chickens and turkeys. And this case is hardly unique.
That said, Virginia's law -- read it here -- is primarily directed at protecting farmers from economic harm. And some other jurisdictions with similar statutes have levied animal cruelty charges against people who kill dogs who have killed chickens. (If this sort of charge would hold up in Virginia or not is unclear, but the possibility may at least prove a deterrent to would-be dog-shooters and a comfort to those who don't want dogs shot on an increased basis.)
Arlington already has a leash law on the books, too. Plus, in April, Virginia Beach Councilman Bill DeSteph told WAVY he thought the law allowing the killing of dogs could be changed, with some concerted effort among Old Dominion cities.
In any case, Northern Virginia's most vocal backyard hen enthusiast, Ed Fendley of the Arlington Egg Project, told Arlington Now that he doesn't see the law as as a nail in the coop.
"Thankfully, dogs, people and hens co-exist happily in Baltimore, Richmond, Raleigh, and hundreds of other urban communities across the country that embrace henkeeping," Fendley said. "We are confident that in Arlington, too, we can walk and chew gum at the same time."
Flickr photo by aromicpuppy68, used under a Creative Commons license.

BEFORE YOU GO
PHOTO GALLERY
Goats in trees