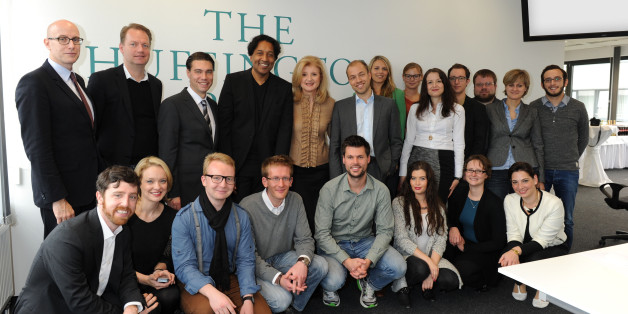 On Thursday, The Huffington Post launched its eighth international edition, The Huffington Post Deutschland, in Munich. The site, created in partnership with Hubert Burda's Tomorrow Focus Media, is HuffPost's fifth edition in Europe, joining the UK, France, Spain and Italy. The site's editorial director is Cherno Jobatey, who for 20 years was the host of the popular morning show ZDF-Morgenmagazin, and the editor in chief is Sebastian Matthes. who most recently led science and technology coverage at the German business news magazine Wirtschaftswoche.
In her blog post introducing the site, Arianna wrote that:
HuffPost Deutschland is launching at a time of transition and disruption in the German media. Blogging is still in its early stages here, which means the opportunities for growth are tremendous for HuffPost, which is a media hybrid -- a combination of a journalistic outlet that last year won a Pulitzer Prize for its investigative reporting and a powerful platform bringing thousands of voices that otherwise would not have a platform into the global conversation. Our goal is not just to be telling the most important stories but to be helping the people of Germany tell their stories themselves -- in words, in pictures, and in video.
In Munich on Thursday for the event was Arianna and HuffPost CEO Jimmy Maymann. They were joined at a press conference at Munich's Literaturhaus by Tomorrow Focus AG CEO Toon Boutin, member of the Management Board at Tomorrow Focus AG Christoph Schuh, Managing Director of Tomorrow Focus Media Oliver Eckert, as well Jobatey and Matthes.
Check out the video made by Cherno Jobatey, HuffPost Deutschland's editorial director, of his trip to HuffPost headquarters in New York.
PHOTOS OF THE TEAM
PHOTO GALLERY
HuffPost Deutschland
PHOTOS OF THE PRESS CONFERENCE AND THE PARTY
PHOTO GALLERY
HuffPost Deutschland Press Conference
BEFORE YOU GO