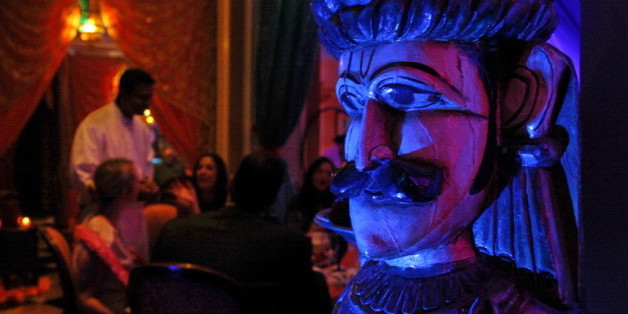 BY JIPSY, NEFARIOUSGIRL.COM
Just for a short time, Executive Chef Ramesh Kaduru is taking over Bizcaya restaurant at The Ritz-Carlton in Coconut Grove to present his culinary dream A Passage to India: An Authentic Indian Pop-Up Restaurant.
There won't be camels at the entrance or staff dressed in beautiful Sarees by Rupess of Wynwood as there were for opening night, but the restaurant's transformation and food are as close as one could get to a night out a fine Indian restaurant. Beyond ambiance with traditional, colorful drapery and decoration, there's also entertainment every night at the pop-up and the food… Chef Kaduru gets it done right.
The pop up menu remains true to original flavors and preparations with carefully selected ingredients with a slight modern touch -- but without disturbing the exotic dishes. Selections on the menu include both vegetarian and non-vegetarian options with traditional favorites such as Masala Shrimp, Chicken Tikka, Masala Dosa and Dal Makhani.
A Passage to India: An Authentic Indian Pop-Up Restaurant is available Thursday through Sunday from 6 p.m. to 10 p.m. through November 3. Reservations strongly recommended by calling (305) 644-4675. Bizcaya at The Ritz-Carlton Coconut Grove is located at 3300 Southwest 27th Avenue.
BEFORE YOU GO
PHOTO GALLERY
Indian Pop-Up Restaurant At Ritz-Carlton Coconut Grove