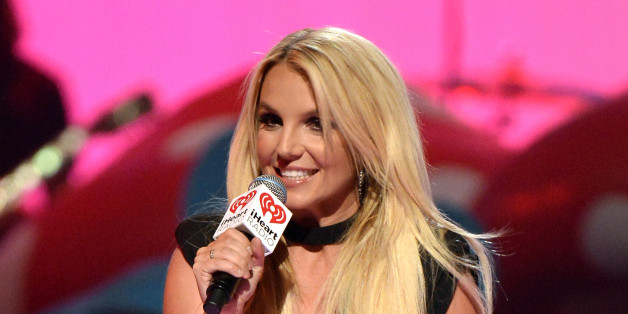 Miley Cyrus dropped her fourth studio album, "BANGERZ," last week, riding on the success of the project's two hit singles, "We Can't Stop" and "Wrecking Ball." The album includes collaborations with Nelly, Big Sean, and Ludacris, but the most-hyped guest feature on "BANGERZ" almost didn't happen.
Cyrus teamed up with Britney Spears for the upbeat track "SMS (Bangerz)," which leaked ahead of the full release of "BANGERZ." It was recently revealed, however, that Spears wasn't Miley's first choice for the song. Songwriter Sean Garrett, who worked with Cyrus on her "BANGERZ" album recently sat down with MTV and gave the scoop on who Cyrus originally wanted for the project.
"The first name that we tossed around was Gwen Stefani," Garrett told MTV. "We were talking about Gwen because you know Gwen got that edge too, but that's how God works."
"We were throwing around those ideas," he continued. "Nicki [Minaj], we were talking about putting Nicki on there too. That would've been nuts too, but I think that's how God works, this was absolutely the right one."
While Spears may not have been Cyrus' first choice for "SMS," she has been highly celebrated by the 20-year-old singer in recent weeks. Spears was featured in the MTV special about Cyrus, "Miley: The Movement," in which Cyrus said, "I only want one bitch on my record, and that's Britney, bitch!"
Cyrus is set to see success with "BANGERZ," as the album is on pace to top the Billboard 200. The record is projected to sell 250,000 copies in its first week.
BEFORE YOU GO
PHOTO GALLERY
Miley Cyrus' Transformation