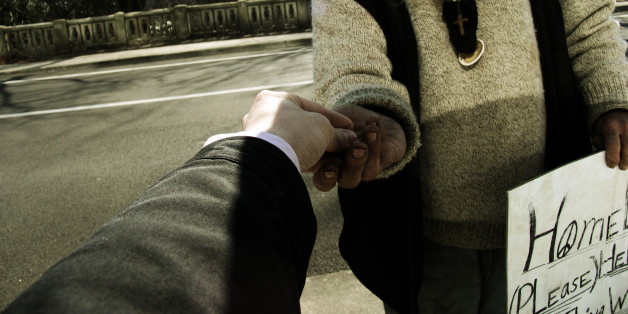 A New Jersey town has decided that people can only panhandle with a permit. On top of that, they must follow the golden rule and ask nicely for donations.
Middle Township recently passed an ordinance banning "aggressive begging" and declared that people can only ask for donations on the streets once they obtain a permit to do so, the Press of Atlantic City reported.
"It's a recurring complaint from our residents," Police Chief Christopher Leusner told the news outlet. "I've gotten numerous complaints from residents that say, 'Hey, I was in ShopRite, I was on my way to my car and a person followed me and asked me [for money] three or four times.'"
Leusner told FoxNews.com that he suggested the law after getting more than a dozen complains from residents and business owners, but said that there had been no reports of violence.
According to the ordinance, "aggressive begging," means approaching someone in a way that would cause a "reasonable person to fear bodily harm," getting in the way of a person or vehicle, asking for money or goods or panhandling in a public place.
People who want to panhandle on the streets will first have to apply for a permit, which is free and valid for a year. Applicants will have to provide a valid photo ID -- which is often challenging for homeless people to obtain -- undergo a warrant check, and then each case will be reviewed by the police department, according to the ordinance.
Violating the ordinance can result in 30 days in jail and up to $1,000 in fines, a pretty steep punishment for someone who was asking for a few bucks in the first place.
But even residents who are pushing for crackdowns on panhandling say they're not satisfied with the proposed solution.
Delores Nordone, who works at a gym in Middle Township, told FoxNews.com that the law "doesn't really make sense" to her.
"If someone came up to me and said, 'I have a permit to ask you to give me money,' I still don't think I'd give them any," she said.
The law, according to Leusner, is also meant to improve the behavior of panhandlers. Those who ask politely and don't violate the ordinance's provisions will be protected.
"Someone walks by and says, 'Can you spare a dollar?' And they thank you, they keep on moving -- that's something that is protected by the First Amendment," Leusner told the Press of Atlantic City.
Middle Township is just one of a number of areas that's looking to implement harsh laws in order to curb panhandlers from asking for handouts.
In August, Columbia, South Carolina tried criminalizing homelessness and banning panhandling, but rescinded its decision last month after facing backlash from police, advocates and city workers, the Free Times reported. To the chagrin of advocates, Tampa Bay, Fla., the mid-sized city with the most homeless people, criminalized homelessness in July.
But when Mayor Michael Nutter tried passing through a ban in Philadelphia on feeding the homeless in public last summer, a judge blocked his efforts, Philly.com reported.
"Despite [the city's] considerable efforts, many Philadelphians remain homeless and hungry," District Judge William H. Yohn Jr. wrote in his decision. "The governmental and private programs that minister to needy Philadelphians are largely overwhelmed and clearly insufficient to meet all their needs."

BEFORE YOU GO
PHOTO GALLERY
Organizations that help the homeless