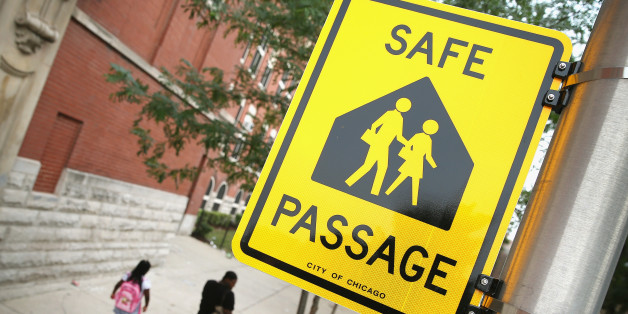 A Safe Passage worker manning a route for the Chicago Public Schools escaped unharmed after a car rolled up to her and fired shots Tuesday morning.
The 36-year-old woman, who was not named, was manning the route for Mollison Elementary School near 47th and Wabash when the gunman opened fire, according to WGN.
Chicago police said the incident was likely "a domestic dispute," the Tribune reports. The woman was reportedly moved from a different Safe Passage route already, due to what she told police was an ongoing dispute with her estranged husband. A source tells the paper the estranged husband is believed to be a Gangster Disciple; court records indicate a string of arrests that include a 2009 murder charge of which he was later found not guilty.
Both CPS and the Safe Passage vendor, Bright Star Community Outreach, downplayed the incident.
DNAinfo Chicago cited an an email statement from CPS that said no students or community members were present, and referred to the shooting as an "alleged" incident.
"As a protective measure, the safe passage vendor has removed this safe passage worker from her post until further notice," the statement said. "CPS will continue to work with CPD and the community to carefully monitor the situation and protect children on their way to school and home."
Bright Star, according to the Tribune, doubted the shooting happened at all. Police interviewed two witnesses, fellow Safe Passage workers. One witness is hearing-impaired, but the second reported hearing shots fired.
This is not the first time the Safe Passage program has encountered trouble since it was expanded as a result of the district's mass wave of school closings in August. Several Safe Passage workers quit just one week into the new school year.
Additionally, several shootings occured along Safe Passage routes -- though mostly outside of the times students are passing through -- in the first few days of the new school year.
BEFORE YOU GO
PHOTO GALLERY
Chicago School Closings