The government shutdown isn't just costing thousands of people their jobs. It's also costing some people their homes.
Last Thursday, Joyce, 77, and Ralph Spencer, 80, were told they'd have to leave their home in Lake Mead, Nev., because it is situated on government land, KTNV reported. Lake Mead is a national park, and the area has been closed as a result of the government shutdown that began on October 1.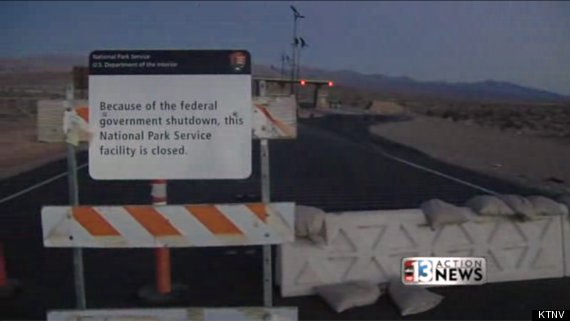 Ms. Spencer told KTNV that a park ranger said they'd have just 24 hours to vacate the premises. Their cabin in Lake Mead is technically considered a vacation home, and one of the requirements for purchasing it was that they would have a primary residence elsewhere.
They've owned the Lake Mead property since the 1970s, but with the ongoing gridlock in Washington, it's unclear when they'll be able to return. Since being evicted, the couple says they've been staying with family.
Watch the whole segment below.
The couple's nightmare is just one example of how the closure of national parks is taking a big toll. Ten days into the government shutdown, the closure of national parks have cost local economies hundreds of millions of dollars across the country.
A North Carolina innkeeper was forced to close his doors after park rangers blocked the entrance to his parking lot, according to Fox News. NBC10 reports that a tavern in Philadelphia's Independence National Historical Park has also been shuttered.
BEFORE YOU GO
PHOTO GALLERY
States Hurting The Most From The Shutdown