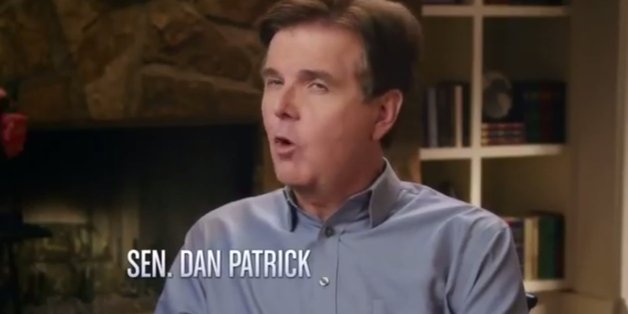 Texas conservatives are looking to roll back a law that allows undocumented immigrants brought here as children to pay in-state tuition to attend state universities.
The four leading GOP candidates for lieutenant governor want to overturn the state's 2001 version of the DREAM Act, the Dallas Morning News reports. The position is sure to draw criticism from Latino politicians responsible for passing the law, even as the Republican party launches a seven-state outreach effort to boost its popularity among Latinos after Mitt Romney's poor performance among Hispanics in the 2012 election.
Dan Patrick, a Republican state senator representing Houston, got the ball rolling this week with an ad trumpeting his opposition to illegal immigration.
"If Sam Houston, Travis, Bowie and Austin were here today, they would be proud of Texas, but they would be ashamed of Washington," Patrick says in the ad. "Illegal immigration is Washington's responsibility, but it's our problem."
Sam Houston, William Travis, James Bowie and Stephen Austin were part of a wave of Anglo-American immigrants to what was then northern Mexico in the early 19th century. Travis immigrated illegally, according to the Texas State Historical Association's "Handbook of Texas." Migrants from the United States wound up outnumbering Mexican nationals and wrested the territory from Mexican control, along with the support of several Tejano leaders, in the Texas Revolution in 1836.
The ad goes on to incorrectly say that he's the "only candidate for lieutenant governor to oppose in-state tuition for illegal immigrants." In fact, three of his Republican rivals -- Lt. Gov. David Dewhurt, Land Commissioner Jerry Patterson and Agriculture Commissioner Todd Staples – also oppose the measure.
"It's unfortunate seeing everybody clamor to see who can be the most extreme on that," Art Martinez de Vara, a co-founder of the Texas Federal of Hispanic Republicans, told the Dallas Morning News.
Texas Gov. Rick Perry faced criticism for signing the law from immigration hawks within his party during the GOP presidential primary in 2011. He defended his decision, saying of the DREAM Act's opponents: "I don't think you have a heart."
But his words haven't convinced his contemporaries in Texas.
"[T]he GOP candidates for the lieutenant governor's job are abandoning Perry's position and effectively competing to see who can out-conservative each other," Dallas Morning News editorial writer Tod Robberson wrote Wednesday. "In other words, who can be more heartless."
The Texas education bill's sponsor, Rick Noriega, represented Houston as a Democrat for five terms in the Texas House of Representatives from 1999 to 2009, before going on to become president and CEO of Avance, an educational nonprofit.
"The intent of the law was to have more kids go to college," Noriega told the Ft. Worth Star-Telegram back 2011, when Perry took heat from immigration hawks during the GOP primary over the bill. "It's been incredibly successful."
Roughly 16,000 undocumented students attended Texas colleges and universities at in-state tuition rates in 2010, according to the Texas Higher Education Coordinating Board.
BEFORE YOU GO
PHOTO GALLERY
6 Misconceptions About The Border