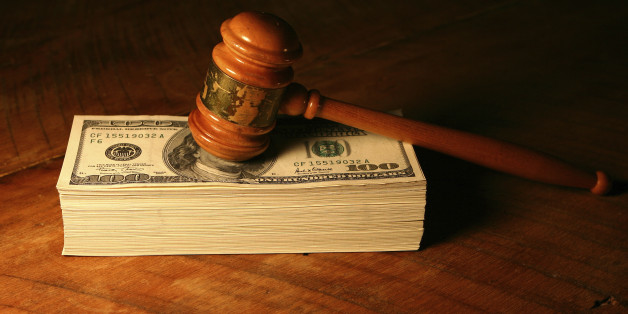 As if paying for police brutality and drunk-on-the-job city workers weren't enough, Chicago taxpayers will soon foot the more than half-million-dollar settlement bill brought on by the racist, sexist rantings of a clout-rich department honcho.
Before Joseph Annunzio (the nephew of 14-term Democratic Illinois Rep. Frank Annunzio) was fired from his $77,148-a-year gig as a department supervisor in the Chicago Department of Transportation, he appears to have been making life hell for his co-workers.
Annunzio was accused of regularly dropping the N-word, insulting female colleagues as "f---ing b-tches," calling a Nigerian-born employee "mambo bambo" and repeating how much he dislikes "f---ing foreigners."
Oh, and he's also accused of putting a red tablecloth over his head at an office party, running into the office of a black colleague and calling himself the "grand wizard," a la the Ku Klux Klan.
The Sun-Times reports on Friday, the city is set to approve spending $560,000 to compensate the women who say they were victims of Annuzio's tirades.
"It's not the money — it's the principle," Ronda Mooney, 50, told the Sun-Times Thursday. "We are all human. We should be treated with respect. To be violated like that, it was like we didn't count. It was not right. It was not fair."
The 50-year-old senior data entry operator is among the CDOT employees sharing in the settlement. She said the office has been "much calmer" since Annunzio was ultimately fired.
Annunzio's firing was fraught with drama in an on-again off-again battle that played out for several years. The allegations against him started in April 2007 after which Annunzio was fired. He was later reinstated after the HR review board said the most "egregious" allegations weren't backed up by testimony from those targeted by the slurs.
Though the targets didn't always hear Annuzio -- who according to court documents talked behind peoples' backs or when they were out of earshot -- colleagues substantiated the claims.
Annunzio claimed his colleagues cooked up the allegations because he was "cracking the whip" on his co-workers' performance.
A circuit court judge and the Illinois Appellate Court later upheld Annunzio's firing.
BEFORE YOU GO
PHOTO GALLERY
Racist Remarks Made By Politicians