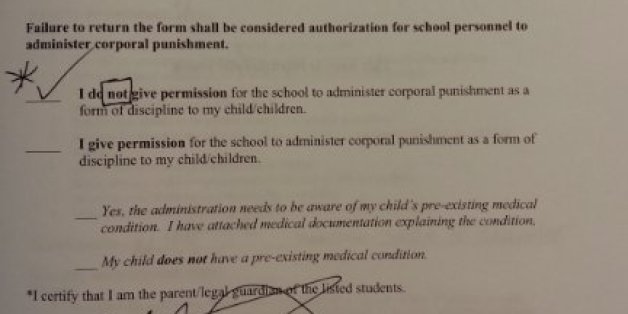 Wendy Chandler, the Alabama mother who spoke out after receiving a "Corporal Punishment Parental Consent Form" from her daughter's school, is not getting the results she wanted.
After speaking with numerous outlets including The Huffington Post and The New York Times, and starting a Change.org petition, Chandler hoped the district of Leeds City Schools might alter its policy of allowing students to be paddled in cases where parents give consent. However, is does not appear that change is coming to their neck of Alabama, which is one of 19 states where corporal punishment as a form of discipline is allowed in schools.
Chandler and her husband, Charles, told The Huffington Post that they presented their issues with the policy to the district's school board on Monday. The board did not comment and instead moved on to the next topic, the couple said.
On Thursday morning, Charles met with the superintendent of the district, John Moore. Charles told HuffPost that Moore made it clear he did not intend to end the practice and said that he has granted permission for his own children, who are enrolled in the district, to receive corporal punishment.
"He's not going to make any changes based on that meeting but he's promised to keep reading the stuff we're sending him," Charles told HuffPost. "He's definitely firm that he's comfortable in the policy and parents having the option to strike their children with paddles on the behind."
Neither Moore nor the members of the district school board were immediately available for comment.
Last month, in response to the controversy regarding the corporal punishment permission slip, Moore issued a statement to several media outlets, explaining that most local parents support the policy:
Our school board, like most in Alabama, maintains a policy which allows for corporal punishment. Parents are free to check "yes" or "no" on the permission form as to their preference. We always respect the preference of parents on this issue. An overwhelming majority of parents in Leeds have indicated corporal punishment is an acceptable form of discipline for their child.
Charles told HuffPost that he agrees with Moore's assessment that most local parents support corporal punishment in schools.
"I would say if we were to have a referendum right now, a majority of people would say, 'Yeah corporal punishment is something that we want to do,'" he said. "But there's all sorts of things that everybody wants to do that they shouldn't."
Charles also said he and Wendy are considering filing a harassment complaint against the district over an incident that occurred while his 5-year-old daughter was in class. He said that the classmate sitting next to her had been threatened with a paddling.
"That wasn't a threat directed at [my daughter] but next to [my daughter]. That's a distinction I'm not sure a 5-year-old can make -- a threat next to you versus to you," said Charles. "The threat itself constitutes as harassment, according to the Alabama State Department policy on education and bullying."
Charles and Wendy say they hope the district and local parents will come to realize that corporal punishment has long-lasting negative effects on children.
"I hope having this conversation makes parents aware that this sort of discipline actually doesn't create discipline and it does damage their kids," said Charles.
During the 2005 – 2006 school year, a reported 223,190 school children in the U.S. were subjected to physical punishment, according to the U.S. Department of Education's Office for Civil Rights.
BEFORE YOU GO
PHOTO GALLERY
Teacher Controversies