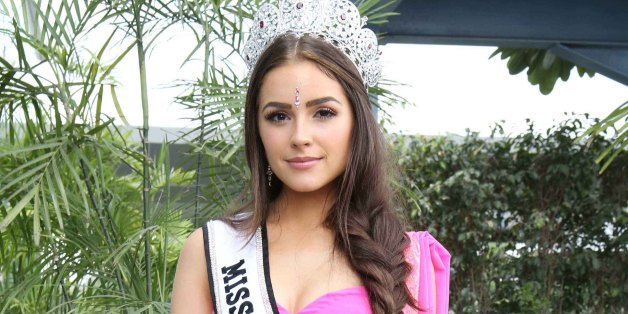 Miss Universe 2012 Olivia Culpo claims she didn't want to do the controversial footwear photo shoot at the Taj Mahal, a move that could allegedly land her and others in jail for two years if found guilty.
On Monday, the Hindustan Times reported officials from the Archeological Survey of India (ASI) would file a police complaint against Miss Universe for her Oct. 6 visit to the Taj Mahal because of a footwear photo shoot that took place on the grounds of the world wonder.
Apparently, Culpo modeled pairs of shoes at the marble ledge known as the Diana Seat, using the Taj Mahal as a backdrop, without permission from ASI.
"The sandals from a bag she carried were taken and placed on the Diana Seat for shooting pictures, which is not permitted by the ASI (Archaeological Survey of India)," Taj caretaker Munazzar Ali told India's Mid-Day paper, according to the Hindustan Times. "It also amounts to disrespect and insult."
Police Inspector Sushant Gaur said Culpo and others in the group were in violation of India's Heritage Act, according to the Associated Press. The legislation bans commercial activity at the Taj Mahal, which is a World Heritage Site.
Now, authorities have filed a case against them. Culpo and others could face up to two years in jail and a fine of 100,000 rupees ($1,600) if found guilty, Gaur said, per the AP.
Now, the 21-year-old is speaking up and saying she had issues with the shoot to begin with.
"I mean, I'm an employee of the Miss Universe organization and following directions given to me," Culpo told the Providence Journal. "I guess their vision was, 'What's better to identify India than the Taj Mahal?' But unfortunately it's something that was highly offensive. Honestly, I did say out loud at one point, 'Isn't this a little inappropriate?'"
"It's upsetting to me that I was a part of that," Culpo added. "It's really upsetting because I loved my visit to India, and I would love nothing more than to go back, even in the near future."
The Miss Universe Organization released a statement to The Huffington Post Wednesday apologizing for the incident and explaining that titleholders make videos with promotional tie-ins throughout their reigns.
"As part of these videos, we sometimes incorporate sponsors into these shoots," the statement read. "The filming that took place outside the Taj Mahal was never intended to be used as a commercial nor was it meant in any way to be disrespectful."
The Rhode Island native set off on a 10-day trip to India last month. Her visit was focused on celebrating female empowerment and spreading AIDS awareness, according to the Miss Universe website.
Get to know Olivia:
PHOTO GALLERY
BEFORE YOU GO
Miss Universe 2012
PHOTO GALLERY
Miss Universe 2012
Want more? Be sure to check out HuffPost Style on Twitter, Facebook, Tumblr, Pinterest and Instagram at @HuffPostStyle.