A terrible tip just turned into more than $10,000 for one Red Lobster waitress.
Toni Christina Jenkins got a surprise check for $10,759 last month thanks to strangers who donated money online after hearing her story. The 19-year-old waitress was shocked in September when a customer allegedly left her a receipt that read "None n**ger," in place of the tip line. (Story continues below photo.)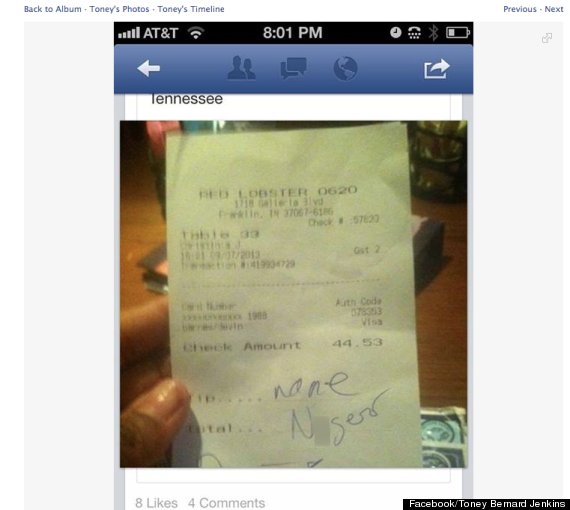 She posted the receipt on her Facebook page and the story went viral, prompting Matthew Hanson, founder of the liberal news site Addictinginfo.org, to start an online campaign to raise a real tip for Jenkins. Though the fundraiser was initially planned to last 30 days, the campaign reached its $10,000 goal in just 72 hours, organizers wrote on the website.
In a Q&A with Addictinginfo, Jenkins said she plans to spend the bulk of the money on a car to get to work and to her community service commitments. She's also hoping to give some of it away.
Jenkins' story has a happy ending, but there's been some controversy along the way. Red Lobster initially suspended Jenkins with pay for posting the receipt online, though a company spokesman called the language on the receipt "completely disgusting" in an e-mail to The Huffington Post at the time. She's back at work now, according to ABC News.
In addition, some critics have called Jenkins' receipt post a hoax -- a claim which she denies. Still, she told Addictinginfo that the experience overall has been a positive one.
"Before I assumed most people wouldn't care or think this was a big deal because it happens everyday all over the world," she said. "I just figured this would be another instance of racism and nothing would come of it, however the love and support I have received from strangers has shown me that most people do truly care about others."
BEFORE YOU GO
PHOTO GALLERY
Outrageous Receipts (EXPLICIT LANGUAGE)