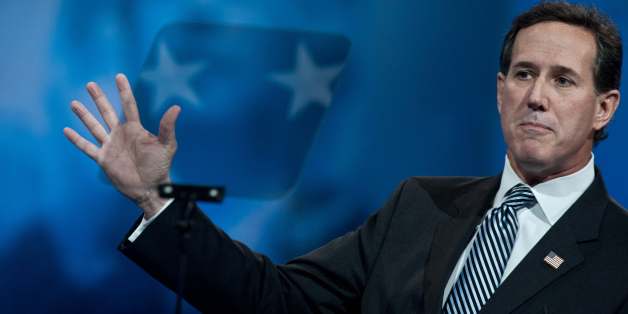 After an unsuccessful run at the GOP presidential nomination in 2012, former Sen. Rick Santorum (R-Pa.) is still considering another go-round.
Santorum has dropped a few 2016 hints this year and continued that trend Friday in his speech at the 2013 Values Voter Summit. He said the thought of a presidential run is something that still "comes to mind" every now and then, "even today."
Back in August, Santorum held that perspective on NBC's "Meet The Press, where he said he was "open to looking" at the 2016 picture. Santorum expressed similar sentiments at a CNN "Crossfire" party in September. According to U.S. News & World Report, when asked about partaking in the second episode of the show -- which featured former Sen. Joe Lieberman, liberal host Van Jones and conservative host S.E. Cupp -- Santorum raised the stakes beyond the show.
"If I'm nervous about going up against them, why would I think about running for president?" Santorum said. "We're thinking about it."
Santorum finished second behind eventual nominee Mitt Romney in the 2012 GOP primary race, winning 11 states in the process. He officially dropped out of the race in April 2012.
As of early October, HuffPost Pollster's compilation of 23 publicly available polls had Santorum holding eighth place in an early, crowded field. View the latest poll chart below:
BEFORE YOU GO
PHOTO GALLERY
100 Years Of Election Night Losers