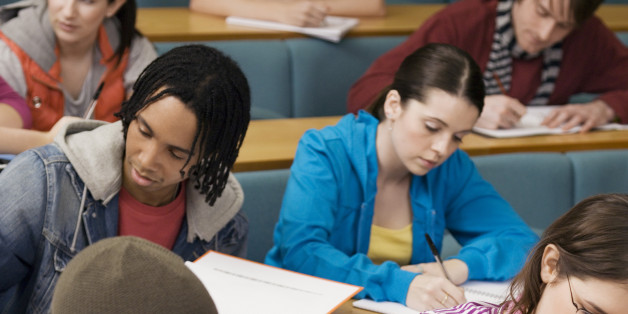 A controversial new law will allow some California community colleges to charge more for their most popular classes, outraging some students and public education advocates who fear this lays the foundation for a new standard of rewarding wealth over academic standing.
Signed into law on Thursday by California Governor Jerry Brown, the two-tiered tuition law allows for up to six of the state's community colleges to participate in a pilot program wherein schools can charge a premium price for the most in-demand classes. The option will only apply to summer and winter term extension classes, and the experiment will expire in 2018.
The six eligible schools are College of the Canyons, Crafton Hills College, Long Beach City College, Oxnard College, Pasadena City College and Solano Community College.
A popular three-unit class would jump from $138 to roughly $600, the San Francisco Bay Guardian reports.
The Governor and the law's supporters argue that the two-tiered system is a way to help solve the budget crisis facing California colleges. But the new law is not without its critics.
"California's Community Colleges have always succeeded on the basis of equal and affordable opportunity," Dean Murakami, president of the Faculty Association of California Community Colleges, said. "Establishing a toll-lane for the economically privileged … runs counter to the very purpose of these institutions. That is the reason the vast majority of faculty, students, staff, and the State Chancellor opposed this measure."
Traditionally, landing a spot in the most sought-after classes requires an early class registration time, something students earn by succeeding in class and completing enough units.
However, the added revenue will allow schools to offer courses they couldn't afford to otherwise, Jeffrey Kellogg, president of the Long Beach Community College District board told the Orange County Register.
That was the basis of Brown's signing, along with the funneling of a third of the revenue back into the school's need-based financial aid funds.
"Why deny these campuses the opportunity to offer students access and financial assistance to courses not otherwise available?" he wrote in a letter announcing his signing.
"Yes, $600 is more expensive than $138, but only in the short term," the bill's author, Assembly member Das Williams, wrote in an op-ed for the Daily Californian, the University of California, Berkeley's student newspaper. "What's the cost to a student forced by the current lack of classes to have to face one to four more years of living expenses to complete his or her education? It's a lot more than $600."
Budget cuts have put California Community College enrollments at a 20-year low, with an estimated 600,000 students losing access to education because of slashes to courses and instructors.
"If the state of California gave us the money we need to address this demand," Kellogg said, "we wouldn't be having this discussion."
BEFORE YOU GO