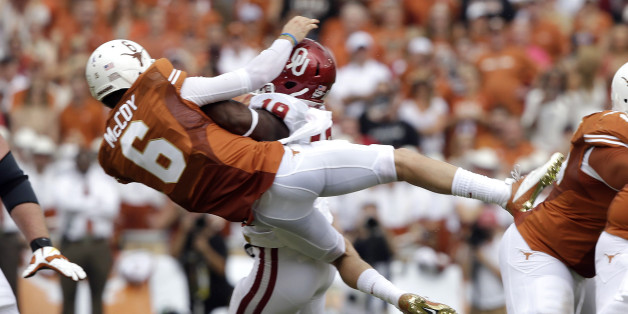 Oklahoma linebacker Eric Striker wasted no time bringing some intensity to the Red River Rivalry on Saturday when he blitzed Texas quarterback Case McCoy in the first quarter.
On the Longhorns' second possession of the game, nobody blocked the Sooners sophomore as he hit McCoy up high just as he threw a pass. McCoy was flipped over backwards before he hit the ground.
(GIF via BuzzFeed Sports)
Somehow, McCoy was able to get back to his feet and stay in the game. Striker was called for a personal foul on the play.
McCoy takes hit from Striker that leaves his feet over his head. McCoy gets up, sod in facemask, urging crowd on.

— Kevin Sherrington (@KSherringtonDMN) October 12, 2013
I can't believe Case McCoy is staying in the game after that Eric Striker hit.

— David Ubben (@davidubben) October 12, 2013
Oh God, that Case McCoy hit was NFL BLITZ material. Like, wow.

— Adam Kramer (@KegsnEggs) October 12, 2013
UPDATE: Not only did McCoy stay in the game, he ended up completing 13 of 21 passes for 190 yards and two touchdowns. Texas went on to upset No. 12 Oklahoma 36-20.
BEFORE YOU GO
PHOTO GALLERY
PHOTOS: College Football Week 7