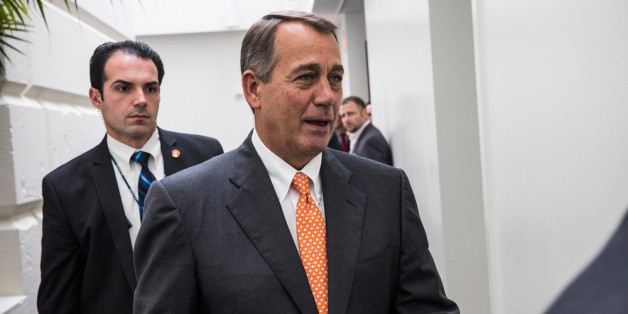 WASHINGTON -- House Republicans said Saturday that the White House has rejected their offer to temporarily increase the debt ceiling and open the government.
Members leaving a closed-door meeting said House Speaker John Boehner (R-Ohio) told them talks with President Barack Obama on how to end the government shutdown and avert the looming Oct. 17 deadline to raise the nation's borrowing cap, had reached a dead end. There was also concern that the White House might strike a deal with Senate Republicans, who presented their own plan to Obama on Friday.
Many lawmakers, including House Majority Leader Eric Cantor (R-Va.), said it was now up to their colleagues in the Senate to hold firm so that Republicans in both chambers would appear united.
"I'm disappointed that the president has rejected the offer that we put on the table," Cantor told reporters after the meeting. "I know that he's trying to see which Republican senator he can pick off in the Senate. I hope that the Senate Republicans stand strong so we can speak with one voice."
House Republicans had put forward a proposal to extend the debt limit for six weeks and work quickly to reopen the government, if the president agreed to a broader framework for deficit reduction. They presented the plan to Obama in a meeting at the White House Thursday evening. Both sides said afterward that discussions would continue, though neither the White House nor GOP leadership said they were close to a deal.
Members suggested both sides wanted to keep the appearance of potential for progress, even though Obama rejected their plan in a phone call with Boehner on Friday.
Rep. John Fleming (R-La.) paraphrased Boehner's message to the conference as, "Every offer we've made, they've just turned us down."
He added it was a "White House talking point" that the two sides were still talking.
"What [Boehner's] really saying is, 'I'm not shutting the door on further discussions, but right now nothing is happening'," he said.
Rep. Tom Price (R-Ga.) said the White House requested that House leadership "stick with the line that talks were proceeding." "That line was continued, and then late yesterday afternoon, the president called and they declined every part of the offer," he said.
An aide to Boehner declined comment.
Price said while there was concern over Obama's negotiations with Senate Republicans, he didn't think their plan would pass the upper chamber. Sources told The Huffington Post that a bipartisan group of 10 senators, five from each party, are ironing out the details of a plan floated by Sen. Susan Collins (R-Maine). It would reportedly fund the government through March, raise the debt ceiling through January, give federal agencies flexibility to manage across-the-board cuts caused by sequestration, and delay Obamacare's medical device tax by two years.
"I think the timing on that is challenging," Price said. "We want to get back to a regular order process where we're doing appropriations bills and putting Congress' stamp of priorities on the spending of this government."
"We hope that our Senate Republican colleagues stand with us united to force the president to have a conversation," he added.
Conservative House members outright rejected the Collins' plan and were skeptical it would pass the Senate, let alone the House.
"The idea that Susan Collins can dictate what happens in the Senate is kind of silly," Rep. Tim Huelskamp (R-Kansas) said. "They can negotiate all day long, but obviously at the end of the day it has to pass the House."
Fleming said the plan was dead on arrival in the House. "They're not going to get that, because we're not going to support it," he said.
UPDATE: 2:05 p.m. -- Senate Democratic leadership rejected the Collins plan Saturday afternoon. A senior Democratic aide said the proposal is pretty unpopular among most Democrats, for two reasons: It locks in the current level of sequestration, minus another $20 billion in 2014, and it makes changes to Obamacare.
"Why would Dems ever support that?" asked the aide. "It's crazy that it got this far."
Negotiations are now in the hands of Senate leaders Harry Reid (D-Nev.) and Mitch McConnell (R-Ky.). Reid spokesman Adam Jentleson said McConnell requested a meeting with Reid, and that the two sat down with Sens. Chuck Schumer (D-N.Y.) and Lamar Alexander (R-Tenn) in Reid's office Saturday morning to hash out a way forward.
The contours of a deal were far from apparent, but Jentleson added both the White House and House Minority Leader Nancy Pelosi's (D-Calif.) office were "fully engaged" as talks progressed.
Jennifer Bendery contributed reporting.
BEFORE YOU GO
PHOTO GALLERY
John Boehner's Shutdown Showdown Stares