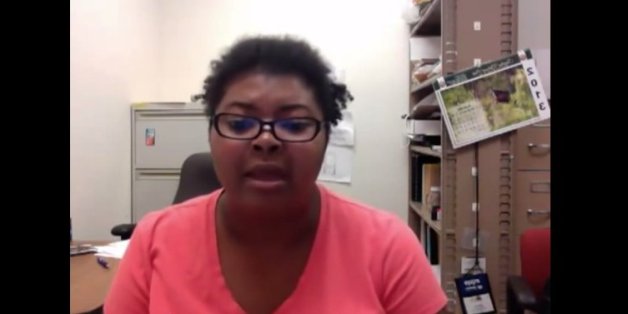 After turning down an offer to contribute for free to a science website, biologist Danielle Lee was allegedly called an "urban whore" by one of the site's editors.
It all started when Biology-Online offered Lee, who's doing her post-doctoral research at Oklahoma State University, the chance to be a guest blogger. The editor, whose name appears to be Ofek, said the opportunity would provide her with a great deal of "exposure," boasting that the site has 1.6 million visitors a month.
On Thursday, Lee politely declined the offer, according to screengrabs posted on IsisTheScientist, a blog. But the Biology-Online editor who made her the offer became upset and apparently responded by asking: "Because we don't pay for blog entries? Are you an urban scientist or an urban whore?"
The next day, an indignant Lee wrote about the incident on her Scientific American blog, "The Urban Scientist," saying the name-calling was dismissive, and the idea of being paid in exposure, rather than actual U.S. currency, is "wrong-headed."
From the piece reposted on IsisTheScientist:
This is work. I am a professional. Professionals get paid. End of story. Even if I decide to do it pro bono (because I support your mission or I know you, whatevs) – it is still worth something. I'm simply choosing to waive that fee.
But here's where things get even crazier. Later that day, Scientific American (which apparently had listed Biology-Online as a partner until recently) deleted Lee's blog. The URL now leads to an error message.
The following day, Scientific American
Editor-in-Chief Mariette DiChristina
gave
a cursory explanation on Twitter
:
Re blog inquiry: @sciam is a publication for discovering science. The post was not appropriate for this area & was therefore removed.

— Mariette DiChristina (@mdichristina) October 12, 2013
But after Lee's story was picked up by numerous blogs and news sites over the weekend, DiChristina wrote a longer explanation for having pulled the post, saying:
Unfortunately, we could not quickly verify the facts of [Lee's] blog post and consequently for legal reasons we had to remove the post. Although we regret that this was necessary, a publisher must be able to protect its interests and Scientific American bloggers are informed that we may remove their blog posts at any time when they agree to blog for us.
Biology-Online did not immediately respond to requests for comment from The Huffington Post.
WATCH: Biologist and blogger Danielle Lee responds to being called "an urban whore" after declining to write for Biology-Online.

(hat tip Wired)