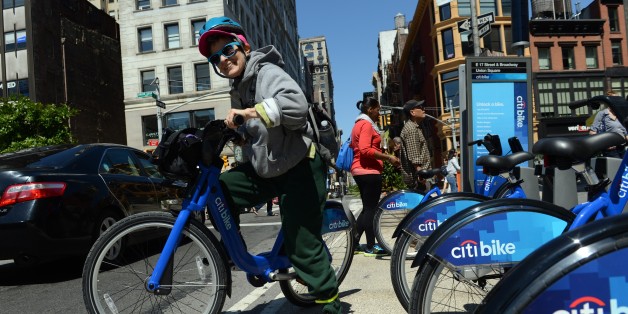 The Plaza wants the Citi Bike rack in front of its landmark hotel yanked immediately.
The hotel believes that the block-long collection of bikes across from their main entrance is an eyesore and that the rack is causing traffic jams around the hotel. The bright blue row of Citi Bikes reduced the four traffic lanes along Grand Army Plaza to three.
The suit also claims that the bike rack is attracting litter.
Steven Sladkus, the Plaza hotel's lawyer, argues that the city did not conduct an environmental-impact review and therefore violated its own laws. According to the suit, the city also is in violation for allowing ads to be placed on a piece of street furniture, the New York Post reports.
"To place racks in between two of New York City's iconic landmarks seems rather unnecessary when there are very viable other alternatives," Sladkus said.
A spokesperson for the city Law Department said, "We are confident that the installation was proper."
The lawsuit lists New York City's Department of Transportation and Citibank as defendants.

BEFORE YOU GO
PHOTO GALLERY
Celebrities Ride Bikes