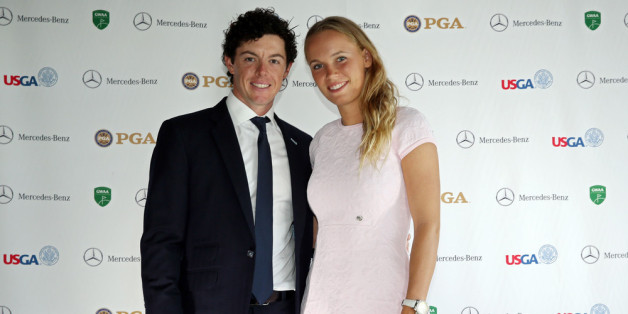 Golfer Rory McIlroy and tennis pro Caroline Wozniacki have reportedly split, weeks after breakup rumors began to swirl and after Wozniacki posted an embarrassing photo of her beau to Twitter.
Ireland's Independent reported Sunday that McIlroy has split from Wozniacki following speculation in the tabloids. A source told the paper that the decision to end the relationship came after she posted to Twitter a photo of McIlroy sleeping with his mouth wide open on Sept. 16.
"Rory was very upset by it and even Serena Williams pointed out -- albeit in a joking way -- it was a pretty mean thing to do," a source told the Independent. "There were a lot of tears. She still has her profile picture on her social-networking site set as the two of them in happier times, but I can tell you the pair are no longer an item."
Jetlag @mcilroyrory ? Lol!! pic.twitter.com/fJFXpilGhA

— Caroline Wozniacki (@CaroWozniacki) September 16, 2013
The two started dating back in 2011. The U.S. Open champion said their relationship was built on common interests and the fact that they understand each other. Rumors of a split first surfaced earlier this year.
In July, NBC golf analyst Johnny Miller partially blamed McIlroy's puttering performance on the green on his personal life. "I think he's in love for the first time," he told the San Francisco Chronicle. "It's a wonderful feeling, and it's distracting."
Likewise, World Golf Hall of Fame member Gary Player advised that McIlroy should not play with a worried mind.
"You can't have managerial problems, you can't have women problems. You've got to be out there and have a free mind," he told ESPN Friday. Later adding, "He's got to find himself a wife that'll help him, actually almost dedicate her life to him being a success. And that's hard to find today, because women are extremely independent today. It's a very different time than when we were around."