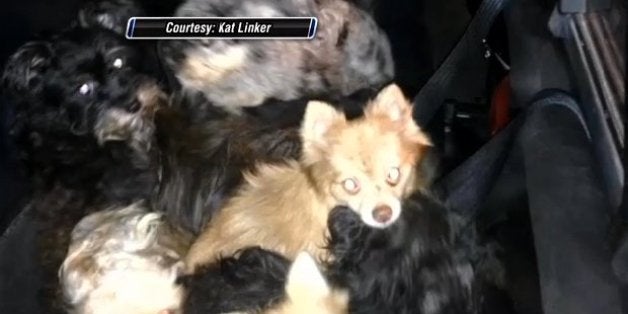 A woman on a walk heard incessant barking and followed the sound only to find the car full of pomeranian-poodle mix dogs.
"They were in cages. Some were running around. They were barking so loudly and all the windows were up. It was completely steamed up," Kat Linker told Hawaii News Now. "It was absolutely horrible and I knew there was something seriously wrong."
She called 911 and opened an unlocked door.
"When I opened the door, the stench that came out of that car was absolutely horrible," said Linker.
Police confiscated all of the dogs and tracked the car to a 68-year-old woman whose daughter bred the dogs.
Police did not cite the woman for any crime, even though she had taken the dogs without her daughter's permission and her daughter had been searching for the dogs.
Because Hawaii law states that only ten dogs may live in one household, the pups will be split up by the Hawaii Humane Society.
"I was surprised that the police let her go," Linker said. "I really thought they would take her to the station. I was surprised by that, but I was at least glad that they didn't let her drive away with the dogs."
BEFORE YOU GO
PHOTO GALLERY
Animals Who Need Hugs