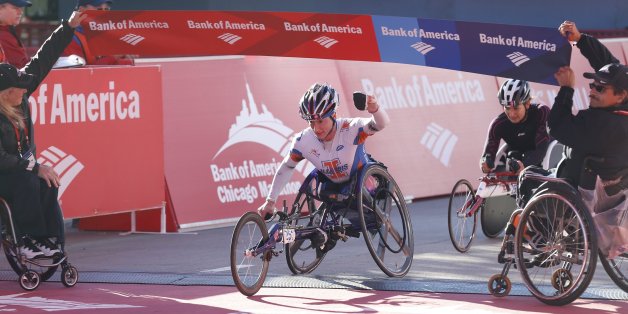 A University of Illinois student has achieved something no athlete has ever accomplished before.
In winning the women's wheelchair division of the Chicago Marathon on Sunday, Tatyana McFadden not only set a new course record -- of 1 hour, 42 minutes, 35 seconds -- but she also became the first person -- able-bodied or otherwise -- to win three major marathons in the same year, NBC Chicago reports.
In her Sunday win, McFadden edged Switzerland's Manuela Schaer by a mere three seconds, according to the Chicago Sun-Times.
"I really tested my body and needed to give 110 percent," McFadden, who has now won four of the last five Chicago Marathons, said after the Sunday race, the Daily Herald reports.
McFadden was born with spina bifida in Russia and grew up in a St. Petersburg orphanage before she was adopted by her mother Deborah McFadden when she was 6 years old, according to the New York Times. Her condition left her paralyzed below the waist.
Sweeping the marathons in Boston, London and Chicago this year is not enough, however. The 24-year-old will be going for the grand slam when she races in the New York City Marathon on Nov. 3.
But McFadden's inspiring prowess doesn't stop with wheelchair racing: she's also taken up nordic skiing with an eye on representing the U.S. at the Paralympics in Sochi next year, according to Paralympic.org.
"That is my dream," McFadden told the Washington Post this month. "I want to educate others, inspire others -- [to show] there are no other limitations in life. ... I want to leave that behind."
BEFORE YOU GO