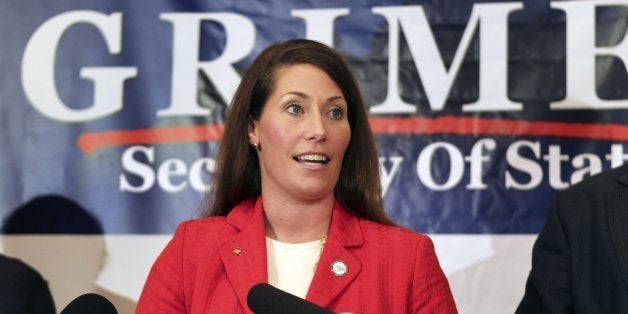 Democrat Alison Lundergan Grimes outraised Senate Minority Leader Mitch McConnell (R-Ky.) in the first quarter, raking in over $2.5 million for her campaign to unseat the five-term senator.
Grimes' campaign boasted in a press release on Tuesday that her fundraising success over McConnell comes during his "strongest fundraising quarter to date." McConnell raised $2.27 million during the same July through September period.
Grimes, Kentucky's secretary of state, hopes to defeat McConnell in what is shaping up to be a battering campaign. Democrats have made McConnell a top target in the 2014 midterm elections.
According to the release from Grimes' campaign, her first quarter fundraising represents donations from about 13,000 unique contributors -- more than double the number of unique contributors to McConnell's campaign.
Regardless of her advantage in the last quarter, Grimes still trails McConnell in cash on hand. McConnell, who had a head start in fundraising, has $10 million cash on hand compared to Grimes' $2 million.
"Sen. McConnell enjoys broad support from Kentuckians and Americans from all backgrounds and walks of life who appreciate his hard work and principled conservative leadership," campaign manager Jesse Benton said in a statement, according to the Hill. "We are running a presidential-level campaign designed to withstand the millions of dollars in attack ads coming from out-of-state groups and deliver Senator McConnell's message directly to Kentucky voters."
National Republican Senatorial Committee strategist Brad Dayspring called Grimes' first quarter posting "underwhelming" on Twitter, adding that the first quarter is the easiest for fundraising.
McConnell also faces a primary challenge from Louisville businessman Matt Bevin. Bevin's campaign brought in about $800,000 in the first quarter. Of Bevin's fundraising total, $600,000 was his own money.
The Lexington Herald-Leader reports that, though polling has been scant so far, McConnell faces difficult approval numbers in addition to his Democrat and Republican challengers.
BEFORE YOU GO
PHOTO GALLERY
More Crazy Examples of Congressional Theatrics