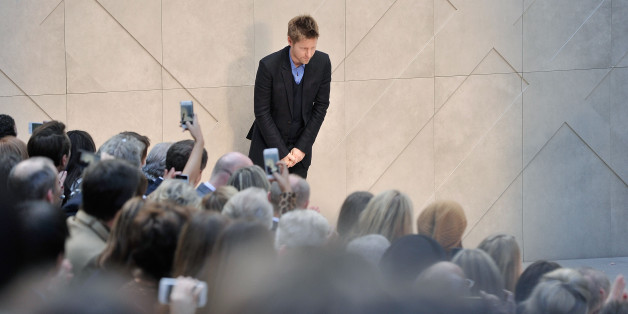 The fashion world woke to exciting news on Tuesday: Christopher Bailey, the powerhouse designer of Burberry and the pride of London fashion, is officially the new Burberry CEO, replacing Angela Ahrendts.
Bailey, who is currently chief creative officer, will keep his position as head designer, continuing to make the brand a must-see at London Fashion Week and a "must-follow" on social media (Burberry has been named the most "digitally competent luxury brand" and has the largest Facebook following of any fashion label, nearly double of Chanel).
Of course, Ahrendts was a huge part of Burberry's 21st-century resurgence. As CEO, Ahrendts is credited with transforming Burberry into a digital force to be reckoned with as well as a majorly profitable company. In the process, Ahrendts also became the highest-paid executive in Britain.
Ahrendts is now taking her tech savvy over to Apple, starting as a senior vice president overseeing retail operations next spring. As WWD notes, Ahrendts isn't the first fashion exec to jump to Apple in the past year. Yves Saint Laurent CEO Paul Deneve left the French luxury house this summer to become a vice president at Apple focusing on "special projects."
Now Bailey, the creative mind behind Burberry's makeover, will also become the business brains. In a statement to WWD, he said he was "humbled to be asked to take on the CEO role at this company that means so much to me. I also feel privileged to be keeping my role as chief creative officer."
Will anything change at Burberry... and will the company remain as dominant as it has been for the past decade? To be determined; but in the meantime, the fashion world seems quite pleased. As Lucky's Eva Chen tweeted this morning, "I love British weather... there's something magical, romantic & poetic about rain.' - #ChristopherBailey, the new CEO of @Burberry! Kudos!"
Christopher Bailey's work on display:
PHOTO GALLERY
Burberry Spring 2014 at London Fashion Week
Want more? Be sure to check out HuffPost Style on Twitter, Facebook, Tumblr, Pinterest and Instagram at @HuffPostStyle.