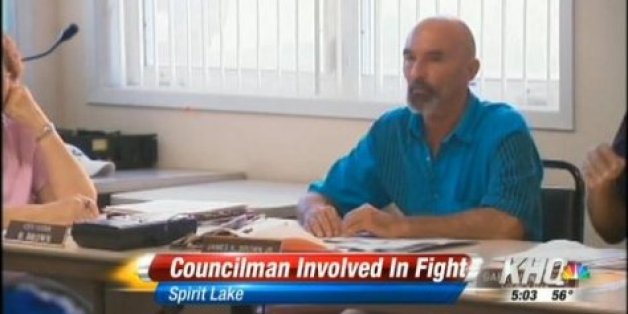 A Spirit Lake, Idaho councilman has been accused of exposing his penis to a woman after physically fighting with her husband.
James "Jimmy" Brown Jr., 56, is being investigated after an alleged incident between himself, resident Eric Vangemert, 44, and his wife, 43-year-old Randi Vangemert, KHQ News reported.
Brown is calling the allegations a "smear campaign" against his reelection efforts, CDAPress reports.
Police say the incident happened in September in an alley behind a saloon, where Vangemert admitted to calling Brown a vulgar name. A brawl allegedly ended with Brown exposing his penis and saying to Vangemert's wife, "This is what a real man looks like."
Officer Michael Wilson, who responded to the scene, said he observed a cut on the bridge of Eric Vangemert's nose and that his eyes were swollen.
According to court documents, Brown asked Spirit Lake Police Chief Gene Marquez if he was "exempt from the law because I'm a city council member."
"I'm approachable," Brown told CDAPress in regards to running for reelection. "Most people know who I am."
Brown is facing two misdemeanor charges of indecent exposure and battery. He has pleaded not guilty to both counts.
Brown's arraignment is scheduled for Oct. 28.
BEFORE YOU GO
PHOTO GALLERY
Bad Choices