Kim Kardashian's gigantic engagement ring from ex-husband Kris Humphries has been sold at an auction.
Us Weekly confirmed that Kardashian's 20-carat ring sold at a Christie's auction on Tuesday for a whopping $620,000 to an anonymous buyer. Bidding started at $200,000. With the auction house's markup, the total price will come to $749,000 for the bauble once worn by the reality starlet.
The Lorraine Schwartz-designed ring features a 16.21-carat rectangular-cut center stone with an I color and VS1 clarity, according to Forbes. Two 1.8-carat trapezoid stones bookend the massive rock. It cost Humphries $2 million at the time of their 2011 engagement.
News of the auction first surfaced in September. Christie's listed it as the "Property of a Gentleman" and estimated it could sell for up to $500,000. It was later revealed to be the property of the Boston Celtics player.
"The ring is indeed Kris' property that he received through his marriage dissolution," Humpries' rep said in a statement to E! News at the time. "He has long-since moved on and is very much looking forward to a successful auction at Christie's on Tuesday, and of course to returning to the court this upcoming NBA season as a Boston Celtic."
Apparently, Kardashian was happy to be rid of the ring (even though she said it was "the most beautiful thing" she had ever seen after the proposal).
"Kim has been waiting for the day he would auction it," a source previously told Us Weekly. "Everyone always asked what Kim did with the ring -- she silently gave it back over a year ago! And Kris waited until the divorce was final to sell it."
A portion of the proceeds from the auction will be donated to charity, Forbes reported.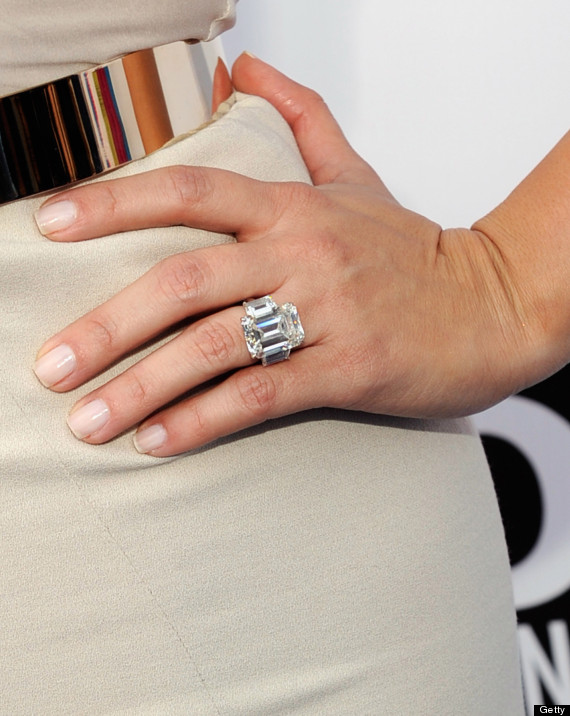 BEFORE YOU GO
PHOTO GALLERY
Kim Kardashian's exes