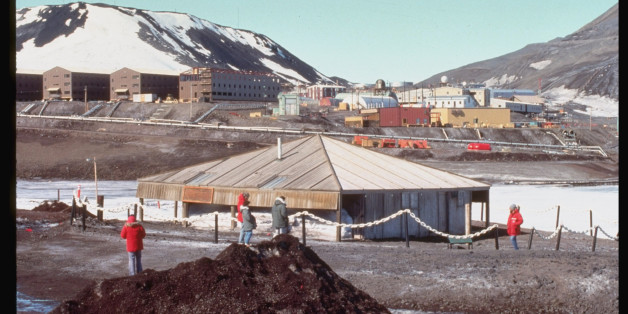 WASHINGTON -- A contractor working at the United States Antarctic Program has started an online petition asking Congress to shield the program's McMurdo Station from the effects of the government shutdown.
Richard Jeong, a senior systems administrator at United States Antarctic Program, started the Change.org petition last week, and more than 3,000 people—including a number of scientists -- have since signed it.
Jeong wants the government to continue funding the station's work, which is part of a National Science Foundation program. The shutdown came just as scientists there were preparing for the summer research season, and the closure has forced the station to go into a holding pattern while it awaits a new appropriation.
"Unlike shutting down a court or a government office in a city, removing Antarctic participants from the ice means losing a long-term investment in infrastructure and a higher cost to re-start the projects," wrote Jeong. "I'm seeing the devastating consequences of this decision firsthand as I've been working as a contractor at McMurdo Station in Antarctica all winter. Congress must pass a shutdown exemption, similar to US Military Pay and US Defense Contractors, for the USAP program or end the shutdown."
The shutdown has shelved decades-long research programs, Jeong noted, including research on climate change, solar cycles and penguins. He said the total annual cost of the U.S. Antarctic Program is $350 million -- "a value added amount of money which is small in terms of the $3.8 trillion dollar total budget."
The National Science Foundation said last week that the funding situation likely means that some research will not happen this year at all. "[S]ome activities cannot be restarted once seasonally dependent windows for research and operations have passed, the seasonal workforce is released, science activities are curtailed and operations are reduced," the NSF said.
The shutdown has stopped scientific research projects across the country, as HuffPost's Sam Stein has reported.
Dr. Alan I. Leshner, chief executive officer of the American Association for the Advancement of Science, told the Senate Committee on Commerce, Science, and Transportation last week that federal budget sequestration and the current shutdown not only threaten current research, but also the future of science.
The ongoing budget crisis is preventing young scientists from getting grants or going into government service at all, Leshner said. He noted that he got his first government grant at age 25; now, most scientists don't get a grant until they are on average 37 years old.
"We're already in a position where we're losing America's best and brightest," he said.
BEFORE YOU GO
PHOTO GALLERY
Connect The Dots On Climate Change