Coach Scott Hamilton is teaching his football players how to be "real" men by hitting the field hard, and making sure that they include students with special needs in the game.
"I'm trying to show these boys how to be men,'' the Atlanta coach told TODAY. "You can be a tough guy and still have a compassionate side."
Each week, Hamilton selects a teen with special needs to join the Paulding County High School football team. That student, named "Person of the Day," gets a jersey, the chance to ride the bus to the game, partake in the pep rally and run onto the field with the rest of the players.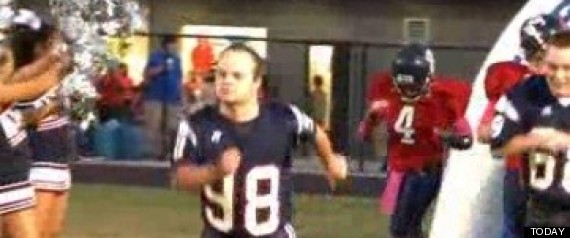 "We don't get the opportunity to see our children, like everybody else does,'' Marion Bishop Fowler, whose son recently had the chance to play with the football team, told the news outlet. "He's opened these players' eyes. You know honestly I don't think even Coach Hamilton realizes what it does."
A number of schools across the country are making more concerted efforts to make sure that kids with special needs get to share experiences with mainstream students.
On Friday, West Orange High School, located just outside of Orlando, Fla., made history when it named Semone Adkins and Travjuan "Bubba" Hunter -– teens with Down syndrome -- homecoming king and queen. It was the first school to ever to do so in Central Florida, the Orlando Sentinel reported.
Part of what helped the students get to know Adkins and Hunter, chosen for their bubbly personalities, was the Best Buddy's Club, according to MyFoxOrlando. The group encourages mainstream students and students with special needs to develop friendships.
"This didn't happen because we feel sorry for them or something," Hayden Griffitts, the football team's quarterback, told the Sentinel. "Just the opposite. They really deserve it. I mean, homecoming is about bringing people together and having fun. And that's what they do."
BEFORE YOU GO
PHOTO GALLERY
People Receive The Best News Ever