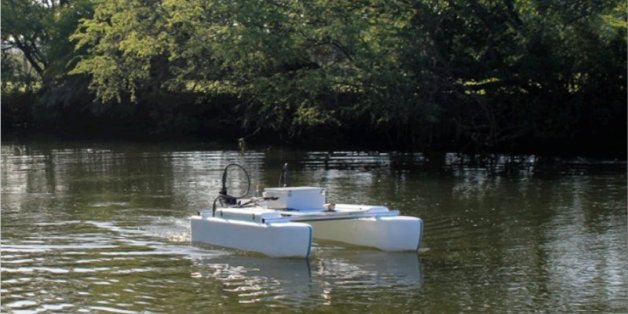 When the U.S. Coast Guard petitioned for unmanned assistance in disaster situations, a new generation of drone was born. The UPSV, or Unmanned Port Security Vessel, is a cross between the sleek, aerial drones we're all used to and the remote control boats that young boys race in park ponds.
"Its purpose," developer Dr. Brian Bingham told Hawaii News Now, "is to go out and map ports and harbors in response to events."
"Events" is a bit of a euphemism. The UPSV was designed to withstand environments that would be "unsafe for humans," events such as tsunami-wrecked or chemical-filled harbors.
With 160 pounds of weight behind it, the six-foot long, twin-hulled boat is like the Mars rover of the ocean. Like it's aerial counterparts, the new drone is fully equipped to collect data with chemical detection sensors, sonars and cameras. (No guns though.)
The UPSV is rapidly deployable and can be dropped in the water by helicopter, which means the Coast Guard and port authorities can access dangerous situations and collect actionable data. In oil spills, for example, the UPSV can help by more adequately mapping out the damage. After tsunamis, it can inspect infrastructure both above and below the water line.
It is not yet known how much the UPSV will cost. It has been developed by the CIMES Center, the Battelle Memorial Institute, and the University of Hawaii, and it still has another year of testing to go. Customers like the Coast Guard, however, are already excited.
"For the Coast Guard," according to Dr. Bingham, "it's about cost and deployability, getting it to an event quickly and easily. Those were the key drivers to the design you see today."
BEFORE YOU GO
PHOTO GALLERY
Drones: The Future Of Flight